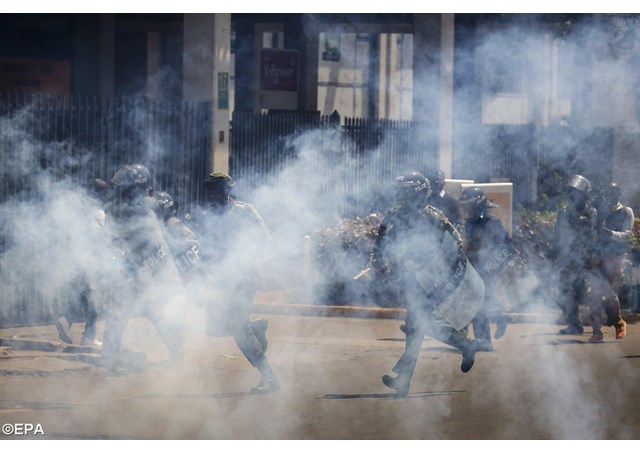 The Kenya Conference of Catholic Bishops (KCCB) has called on the ruling political party, Jubilee and the opposition National Super Alliance (NASA) to agree to Independent Electoral and Boundaries Commission (IEBC)'s invitation to dialogue in order to chart the way forward in the Presidential election re-run scheduled for 26 October.
"The dialogue will pre-empt imminent conflict and violence that is being fanned and organised by both Jubilee and NASA politicians," the Bishops said Tuesday during a press conference held at Donum Dei in Karen, Nairobi.
"We call upon relevant agencies like DCI, DPP, EACC, the Police Service and the NCIC to take up their responsibilities and ensure the independence of institutions, accountability of institutions and the upholding of the rule of Law, justice, and fairness," they added.
The Bishops noted that after examining the current political environment in the country, it was their considered view that unless the country embraced dialogue to agree on common national steps towards stability and effective governance, there was the real risk of plunging into full-blown conflict. The Bishops pleaded with the country's political rivals to avoid, at all costs, the path towards conflict.  
The prelates said they appreciated steps taken by the IEBC in making necessary changes to ensure that the election re-run would be free, fair, peaceful and credible.
"There have been demands from both parts of the political divide on IEBC that the IEBC is trying to address. We, the Catholic Bishops, are convinced that this proposed meeting for dialogue should be an opportunity to address pending issues surrounding the elections," they said.
The Bishops called upon President Uhuru Kenyatta to emerge as a symbol of national unity and offer the needed leadership at this point in time.
They further asked all Kenyans and people of good will to restrain from engaging in violent demonstrations, name-calling, hate speech and threats which can only heighten the tension around the election re-run.
Kenya's Presidential election will be re-run after the original result was annulled by the country's Supreme court.
(CISA in Nairobi)