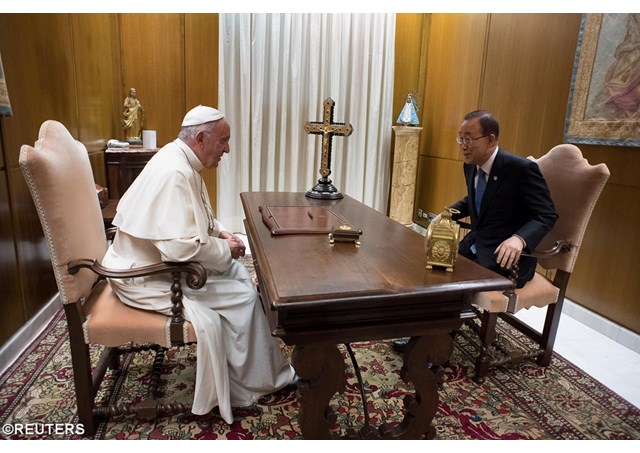 (Vatican Radio) Pope Francis met with United Nations Secretary-General Ban Ki-moon on Wednesday before the Sport at the Service of Humanity's First Global Conference on Sport and Faith, which is being held in the Vatican this week.
The event has been organized by the Pontifical Council for Culture, the United Nations, and the International Olympic Committee.
After his meeting with Pope Francis, the Secretary General spoke to Vatican Radio's Alessandro Gisotti.
Listen to the Vatican Radio interview with Ban Ki-Moon: 
Below, please find a transcription of the interview
BAN KI-MOON: I'm grateful to His Holiness Pope Francis, the Vatican, and also the International Olympic Committee for organizing this very meaningful event, where people can be inspired to promote peace and development through sports. Sports is a universal language. It transcends all the national barriers. It transcends all ethnicities and nationalities and whatever differences one may have. It can have instant power of mobilizing people's energy, and also commitment for development. Togetherness, oneness, can easily be realized through sports. In that regard, the United Nations is very much committed. The UN General Assembly has designated April 6, every year, as the International Day of Sports for Development and Peace, and I have appointed a special envoy to promote peace and development through sport. The United Nations and the IOC have been building a very strong partnership; now the Vatican – the Holy See – is joining. The Vatican, IOC, and the United Nations can have a very strong driving force to promote peace and development through sports.
Question: How important has the role of Pope Francis been in promoting peace and reconciliation, in your opinion?
BAN KI-MOON: His Holiness Pope Francis is a man of peace; a man of vision. He is a man of more voice. It has been a great privilege and honor for me to work with him. For example, when world leaders adopted the 2030 Agenda for Sustainable Development, it was the Pope's urging and appeal to world leaders: He urged world leaders to have a stronger and visionary commitment for the world – people and planet – so that they can live in peace and prosperity through partnership. And also, it was His Holiness who, through his encyclical on climate change, Common Home [Laudato si'] – he termed it: Our planet earth is our common home. We are all seven billion people, and all creatures should live together, and that has given much inspiration. Strong voice: so that the world leaders adopted climate change agreement in Paris last year. I expressed my deepest admiration and gratitude to His Holiness during my audience with him.
Question: Finally, sport is an eloquent example today of this possibility and opportunity of the Holy See and the United Nations to play a role together. Do you think even in the construction of a more human society – peace, reconciliation, human dignity -  that the Holy See and the United Nations, the Church and the United Nations, can work together?
BAN: The Holy See, the Vatican, and Christianity and other religions, they share common goals, visions, and values as the Charter of the United Nations: Peace, respect for humanity, and human rights. And also through sports we can promote sustainable development. In that regard, it is very important that the United Nations has been working very closely with the Holy See, and also a strong partnership with the IOC. The idea of having this Faith and Sports for Peace and Development all came from His Holiness, and also the United Nations and IOC. That is why this is unprecedented that the Secretary General of the United Nations, the IOC, and Holy See work together for com