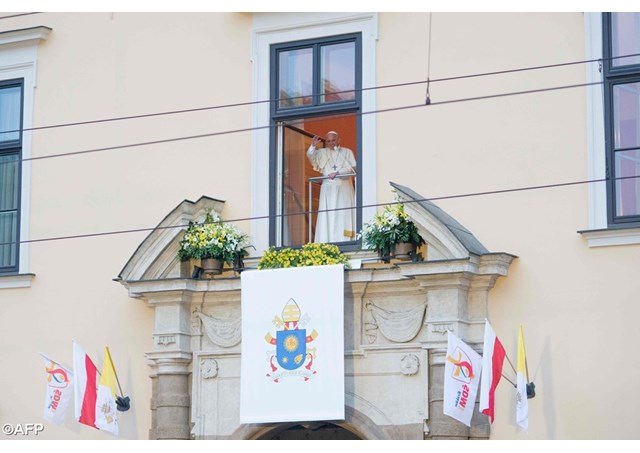 Young people on Thursday evening chanted and sang songs awaiting Pope Francis to come to the window of the Archbishop's residence in Krakow and when he came out, the Square below erupted with cheers.
This evening's remarks were directed at newly married couples and the Pope joked, they say today there is a good group here, in this square, newlyweds."
He commended young men and women for having the courage to commit to marriage and because he said "it is not easy to form a family."
The pope said that he sometimes is asked how married couples can surmount varies difficulties and he suggested that three words are always used, pardon, thanks, and forgiveness.
Marriage, the Pope stressed "is something so beautiful, so beautiful that we must preserve it, because it is forever."
 
There will always be quarrels, but do not be afraid when this happens, underlined Pope Francis.

This is my advice, he said, "never finish the day without making peace. And you know why? Because the cold war the next day is very dangerous."
The Holy Father concluded, "I invite you, before receiving the blessing, to pray for all the families present here, for newlyweds, for those who are already married for a long time."