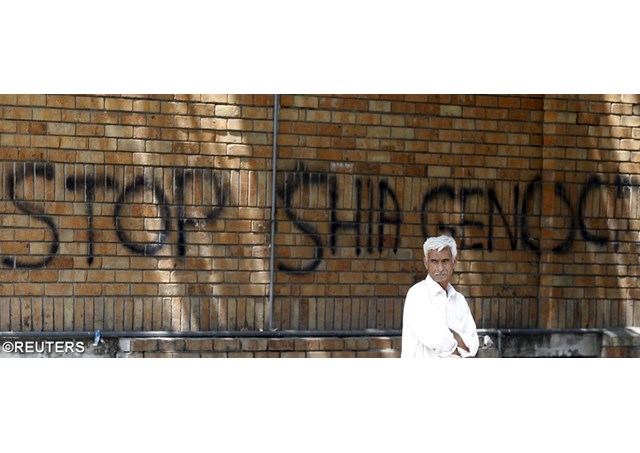 "The government must take notice of Shia killings. Nobody has the right to force their beliefs upon others," Father Emmanuel Yousaf Mani national director of the Pakistani Catholic bishops' National Commission for Justice and Peace, told ucanews.com.
"The state must protect all religious minorities," he said.
Father Mani urged the majority Sunni Muslim clerics to highlight the true teachings of Islam and condemn violence in the name of religion.
Roadside camps with Shias undertaking a protest hunger strike have been erected in major Pakistani cities since May 11 when paramilitary police opened fire on protesting Shias in Parachinar, a Pakistani city bordering Afghanistan. Four Shia Muslims were killed.
Those killings were in addition to nine Shias killed in various sectarian attacks in Pakistan in May.
The Majlis-e-Wahdatul Muslimeen, a party representing Shia Muslims, claims more than 80,000 community members have been killed in the country since 1986.
"We always blamed terrorists for the bloodshed but now a state institution has proven to be biased against us," Syed Muhammad Raza, a spokesman for the party's Lahore unit told ucanews.com.
Despite the temperature going past 40 degrees Celsius, Shias at the camps pray, listen to sermons and abstain from food and water for 12 hours.
"Leaders of religious minorities and opposition parties have visited our camps because they believe our demands are genuine," Raza said "but the federal government is still silent."
Julius Salik, founder of the World Minority Alliance party and a Christian and former minister, has also expressed solidarity with the Shia community.
Neither the Pakistani constitution nor Islam allows for persecution, he said. "It is about time leaders speak out and say that the country is meant for all sects. Targeting any religious faction is against the dignity of the state," he said.
Reverend Majid Abel of the Naulakha Presbyterian Church in Lahore said he understands the challenges Shias face as Christians in Pakistan are also vulnerable to such attacks as are Hindus and Ahmadis, he said. "There is a history of conflict," he said.
Christians are the most persecuted religious minority in Pakistan. In recent years, Christians faced a series of deadly terrorist attacks leaving hundreds dead.
Almost all Muslims belong either to the majority Sunni or minority Shia branches of Islam. Muslims form about 95 percent of Pakistan's 180 million people, with the Shia community accounting for about 20 percent of the Muslim population. Less than 2 percent are Christians, Hindus and other religious minorities. Many Sunni Muslim groups view the Shia community as heretics.
(Source: ucanews.com)