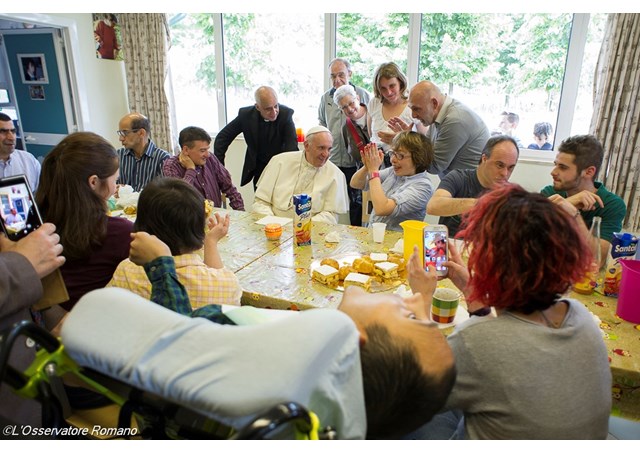 (Vatican Radio) For his monthly 'Mercy Friday' in the Jubilee Year of Mercy, Pope Francis visited on Friday the Community of 'Chicco' in Ciampino, on the outskirts of Rome.
L'Arche (The Ark) was founded by Jean Vanier in 1964 and is now present in over 30 countries on 5 continents. The organization provides loving homes for vulnerable people who live together in a supportive community.
The Chicco community was founded in 1981 and houses 18 people with intellectual challenges. The L'Arche philosophy is "the praise of imperfection," that is, to thrive amidst disabilities that the world doesn't value. The residents of L'Arche are free to make their own way in life, to give and receive deep affection and to form lasting friendships. Pope Francis visited L'Arche as a move to emphasize the value of such principles over an ephemeral, disposable culture.
At Chicco Pope Francis sat with residents and shared a snack with them and the volunteers who live with them. He listened to residents named Nadia, Salvatore, Vittorio, Paolo, Maria Grazia, Danilo, Armando and Fabio who shared their joy of meeting the Holy Father.
The philosophy of L'Arche also values the manual effort of residents and exercising creativity. The Holy Father visited Chicco's workshop where residents work every day to make crafts. Afterwards, while joining hands, Pope Francis prayed with residents in the chapel.
The Chicco community survives on donations and subsidies and so before leaving, Pope Francis made a personal contribution of pasta, fruits, cherries and peaches which were welcomed with the joy and applause of residents.
Pope Francis has identified this visit as one of the most profound of his pontificate. In the Jubilee year so far more than 7 million have attended jubilee events and the visit to Chicco marks the fifth such event undertaken by Pope Francis. In January he visited a nursing home for the elderly, in February, a community treating drug addicts, in March, a reception centre for refugees and in April the Island of Lesbos in Greece.