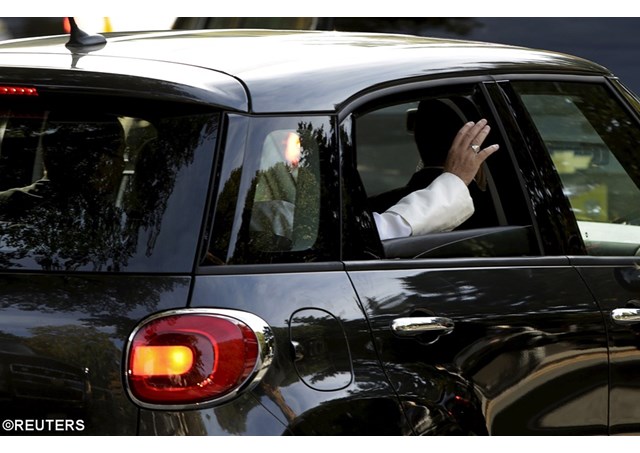 (Vatican Radio) Pope Francis on Thursday met with Jean Todt, the president of Fédération Internationale de l'Automobile (FIA), which sanctions many auto racing events, including Formula One and World Rally Championship.
Todt also serves as the United Nations Secretary General's Special Envoy for Road Safety, and it was in this capacity he met with the Holy Father. He was accompanied by a delegation from the United Nations Economic Commission for Europe (UNECE).
The UN General Assembly proclaimed the period 2011–2020 as the Decade of Action for Road Safety, with a goal to stabilize and then reduce the forecast level of road traffic fatalities around the world by increasing activities conducted at the national, regional and global levels. Every year, nearly 1.3 million people die and between 20 million and 50 million more are injured as a result of road crashes. More than 90 per cent of these deaths occur in low-income and middle-income countries, which have less than half of the world's vehicles.
"We know the Holy Father's strong commitment to address problems of inequality, and address problems of poverty, and … this is a sign of poverty," said Christian Friis Bach, the Executive Secretary of UNECE, who also met Pope Francis.
Listen to the interview by Vatican Radio's Antonino Galofaro with Christian Friis Bach: 

"This is still a problem in the rich countries. It's a severe, serious problem in the poor countries," Bach told Vatican Radio.
"So once again, the poor people and the poor children around in the world are those who are most vulnerable, because the countries have not invested in safe cars; they have not invested in safe roads; they have not educated their drivers to drive safely, and don't drink when they drive," he said.
Bach said Pope Francis was very attentive during the meeting, and gave his support to the United Nations initiative.
"I think all of us who have kids, we remember the first days sending them to school, and praying and hoping that they would come safe back from school again," Bach said. "Every single day, 500 kids do not make it. They get killed by a car, or by an accident on the road."