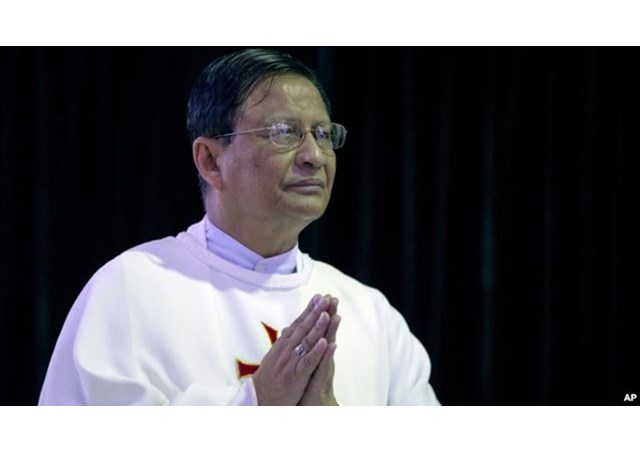 (Vatican Radio) Myanmar's Cardinal Charles Maung Bo of Yangon has urged Asian churches to take the lead in combating climate change, warning in a homily delivered Aug. 18 that "evil is marching with glee, destroying human families, destroying God's gift of nature."
Celebrating Mass in Bangkok ahead of a two-day regional climate change seminar organized by the Federation of Asian Bishops' Conferences (FABC), Cardinal Bo called on the gathered Catholic Church leaders to develop "practical solutions".
"We need to join hands with like-minded forces in the struggle toward the protection of nature," he said, citing Pope Francis's recent Laudato si'. "[The] Holy Father's message is a wake-up call to the Church in East Asia," he said. In June, the pope issued an unprecedented encyclical on the environment arguing for a global response to climate change and wealthy nations to take responsibility for the devastation wrought on the poorest.
Cardinal Bo, who in February became Myanmar's first cardinal, spoke in his homily of the horrors his country had faced in recent years from natural disasters. Cyclone Nargis, he noted, killed more than 150,000 people in 2008 and left 800,000 homeless. In the past two weeks, meanwhile, Myanmar has struggled to cope with torrential rains and flooding that have affected some 1.7 million.
"Our poor did not even know the words, global warming, but they have been the victims of climate change for the last 10 years," said Cardinal Bo, who serves as chairman of the office of human development for the FABC. "We stand at the crossroads of history. What were sporadic attacks on our ecosystem has now turned into chronic illness for our planet. So our gathering here needs to impress upon all of us the urgency of purpose."
Speaking at the conference opening, Bishop Philip Banchong Chaiyara of Ubon Ratchathani, president of Caritas Thailand, praised Cardinal Bo's message and asked participants to "develop a strategy to care for our respective homes". "We all have a role to play in this ecological revolution to which Pope Francis has invited us," Bishop Chaiyara said.
Father Allwyn D'Silva, secretary of the FABC's climate change desk, told ucanews.com that the region's Catholic leaders had become remarkably responsive in recent years. "[At first], many people really did not understand the concept of climate change. The bishops were all new to this," he said. "Now there is a growing awareness."
Fr D'Silva admitted that the Church would struggle to influence governments in the region's Catholic minority countries, but said such challenges can be addressed through unity. "We are joining other secular groups, then we can put on pressure. We have to join hands with others."