Ferenc pápa Twitter üzenete ázsiai útjának megkezdése előtt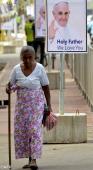 "Ezen a napon, amelyen megkezdem utamat Sri Lanka és a Fülöp-szigetek felé, arra kérlek benneteket, hogy imádkozzatok velem ezen országok népeiért."


Nel giorno in cui inizio il viaggio verso Sri Lanka e Filippine, vi chiedo di pregare con me per i popoli di quei Paesi.
Deum pro me ad Srilankam Insulasque Philippinas profecturo precamini, quaeso, necnon illarum nationum pro populis.

Hoy, que comienza mi viaje a Sri Lanka y Filipinas, les pido que recen conmigo por estos dos países.

W dniu, w którym rozpoczynam podróż do Siri Lanki i Filipin proszę was, abyście modlili się ze mną za mieszkańców tych krajów.

As I begin my trip to Sri Lanka and the Philippines, I ask you to pray for me and for the people of those countries.

Am ersten Tag meiner Reise nach Sri Lanka und auf die Philippinen bitte ich euch, für mich und die Menschen in diesen Ländern zu beten.

Neste dia em que começo a minha viagem ao Sri Lanka e às Filipinas, peço-vos que rezeis comigo pelos povos de ambos os países.

En ce jour où je commence mon voyage au Sri Lanka et aux Philippines, je vous demande de prier pour moi et pour les peuples de ces pays.

أطلب منكم، في اليوم الذي تبدأ فيه الزيارة إلى سريلانكا والفِلِبِّين، أن تصلوا معي من أجل شعوب تلك البلدان.