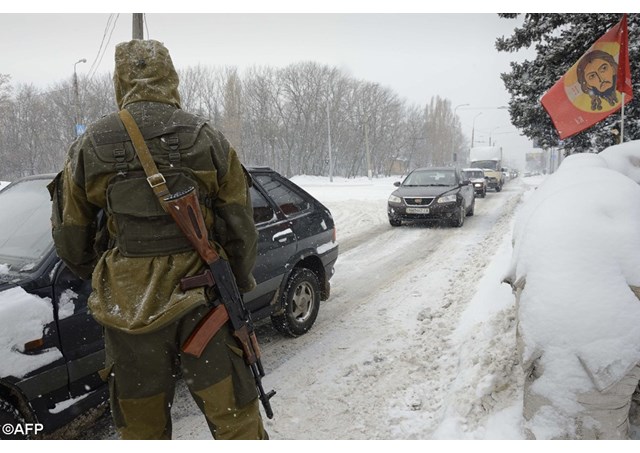 (Vatican Radio) Pope Francis and the spiritual leader of the world's 300 million Orthodox Christians have called for peace in Ukraine and urged all sides to seek dialogue based on international law to resolve the conflict.
The pope and Ecumenical Patriarch Bartholomew I made their appeal as Ukraine's government accused Russia of sending over 100 vehicles with mainly weapons and ammunition to pro-Russian separatists in the east amid renewed fighting there.    
Listen to the report by Stefan Bos:
The Ukrainian military said a convoy of 106 vehicles entered eastern Ukraine from neighboring Russia without Kiev's permission. Moscow has claimed it only provides humanitarian support to the many Russian speakers in eastern Ukraine. 
Yet, Kiev maintained the lion's share of the latest aid is for pro-Russian separatists and that only some of it is food. Most of the supplies, officials said, are weapons, ammunition, and other equipment used in combat operations. 
POROSHENKO WARNING
Speaking at Ukraine's newly elected Parliament, President Petro Poroshenko, already warned legislators of a difficult time ahead in eastern Ukraine.  
"Looking to the future, we can clearly see that establishing peace in 'Donbass' [region] will not prevent danger from the east," he said. "Unfortunately this danger will remain. It will require lots of our efforts and resources."
That became clear Sunday when fighting intensified between government forces and pro-Russian separatists around the key airport of the rebel-held city of Donetsk. 
Local authorities said shelling and a rocket attack in recent days killed several people in the area, including a 12-year old boy and 55-year old woman. Fighting in eastern Ukraine over the weekend reportedly also killed another 82-year old civilian and three Ukrainian soldiers.
LEADERS PRAY 
Pope Francis and Ecumenical Patriarch Bartholomew I have been closely monitoring the battle in eastern Ukraine, which has killed more than 4,000 people. 
Both Christian leaders said they were praying for peace in Ukraine. 
They urged all parties involved to in their words "pursue the path of dialogue and of respect for international law in order to bring an end to the conflict and allow all Ukrainians to live in harmony."
The two leaders issued the statement Sunday in Istanbul, Turkey, at the end of a liturgy to mark the feast of St. Andrew, an important feast in the Orthodox Church. That celebration was one of the concluding events of Pope Francis' three-day apostolic journey to Turkey.