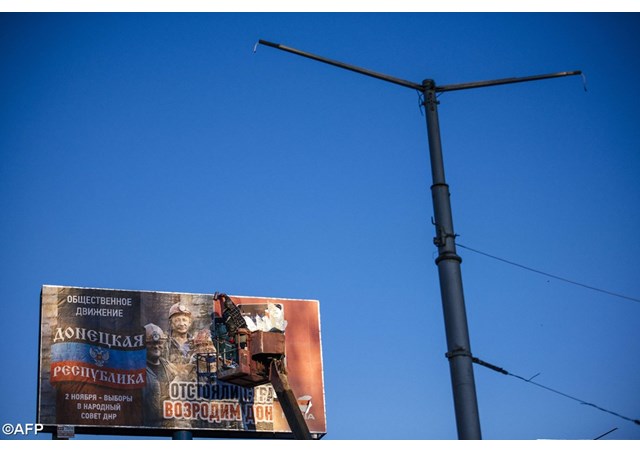 (Vatican Radio) Russia says it will recognize the outcome of Sunday's parliamentary elections in Ukraine, but urges its neighbour to end a conflict between government forces and pro-Russian separatists. 
The announcement came after first official results showed that the three largest pro-Western parties won the vote.
Listen to Stefan Bos' report:
Rival groupings of President Petro Poroshenko and Prime Minister Arseniy Yatsenyuk as well as a new pro-European party, captured more than half of the vote.    
As they began coalition talks, Moscow said it hopes the new government would launch a national dialogue in line with recent agreements to ease tensions in war-torn eastern Ukraine.
In a statement, Russian Foreign Minister Sergei Lavrov said it is important that in his words "at last there will be a government that is not occupied with the pulling of Ukraine either to the West or to the East, but with the real problems that are facing the former Soviet nation."
COOPERATION WITH KIEV
Moscow has left the door open for cooperation with Kiev. But the president of the Russian parliament's Foreign Affairs Committee Alexei Pouchkov said it was also crucial to realize that millions of people were unable to vote Sunday due to ongoing fighting between government troops and pro-Russian separatists in eastern Ukraine.    
He confirmed that "Moscow does recognise this vote." However, "for its fair and democratic character, I personally have serious reservations," Pouchkov added in an interview with Euronews television. 
"I consider that under the conditions of continuing combat, even limited, in the east of Ukraine and given that a substantial part of the population there couldn't take part in this vote, the elections did not take in the whole country's electorate."
He also expressed concern that parliamentarians suspected of links to the old government were thrown in rubbish containers throughout the country. Exit polls and partial results indicated that most the pro-Russian groups that were seen as holding up democratic and legal reforms demanded by the European Union would be swept out of parliament. 
Yet, despite previous concerns in Russia and other countries, far right parties have not performed well.