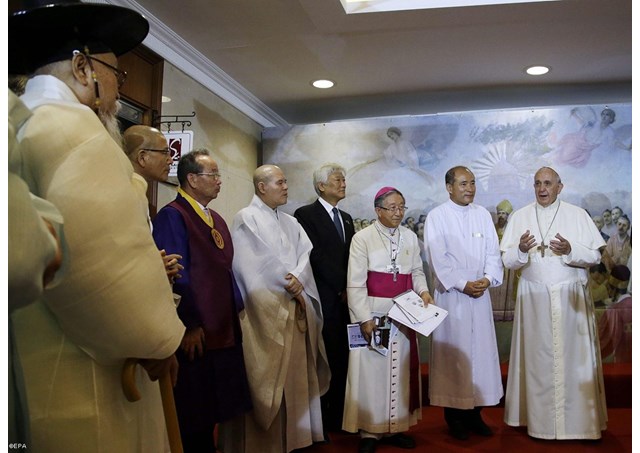 This week, Pope Francis, has been visiting South Korea. On his last day in Korea, Pope Francis has met with leaders of different Christian Churches in Korea and with the heads of other major religious communities at Seoul's Catholic Cathedral. The Pope met the Anglican Bishop of Seoul, the President of the Lutheran Church and the head of the Presbyterian churches in Korea as well as Confucianists and Korea's Buddhist leaders. Also in attendance was the Orthodox Archbishop.
Korea is a land where Catholics are a minority. Through this meeting and encounter, in Korea, Pope Francis is giving Christians a good example, "If they are not against Christ they are with him and their followers are our brothers and sisters".  In its document on non-Christian religions, the Second Vatican Council states that the "Catholic Church rejects nothing that is true and holy in these religions. She regards with sincere reverence those ways of conduct and of life, those precepts and teachings which, though differing in many aspects from the ones she holds and sets forth, nonetheless often reflect a ray of that Truth which enlightens all people." (Nostra Aetate, 2 Second Vatican II)
Interacting briefly and without a written text, Pope Francis told his visitors in Korea, "we must continue walking together… walking with God and going forward together".
As if by design, also currently taking place in Bogota, Colombia is the World Apostolic Congress on Mercy (WCOM) which comes to an end Tuesday, 19 August. The WCOM is one of the legacies of Saint Pope John Paul II. Cardinal Francisco Javier Errázuriz Ossa, the Archbishop Emeritus of Santiago de Chile is Pope Francis' delegate to the Congress.
According to Monsignor Chidi Denis Isizoh, an official of the Pontifical Council for Interreligious Dialogue, all the world's religions refer to God as merciful, all merciful. "The Congress on mercy is, therefore for all believers, all human beings. All must turn to God to obtain His mercy and all must extend this mercy to all corners of the world, Monsignor Isizoh said.
engafrica@vatiradio.va