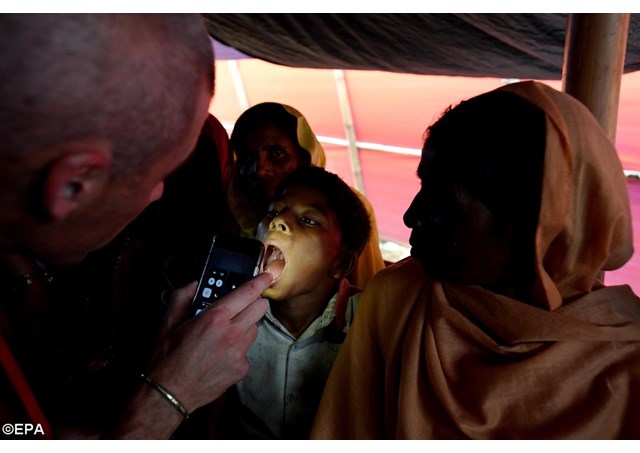 Bangladesh is being supported by the United Nations agencies in a campaign it launched on
Tuesday to immunize Rohingya refugee children against diphtheria in camps in the south-east of the country, after an outbreak of the disease that has killed 9.      
The campaign will cover nearly 255,000 Rohingya children, and are supported by the UN's children's fund. UNICEF, the World Health Organization (WHO) and GAVI, the Vaccine Alliance.
Recent data from WHO and Médecins Sans Frontières (MSF) shows 722 probable diphtheria cases, including nine deaths, in the camps and makeshift settlements, between 12 November and 10 December.
Edouard Beigbeder, UNICEF representative in Bangladesh said the outbreak is an indicator of the "extreme vulnerability of children" which he said calls for "immediate action" to protect them from the killer disease.
 Navaratnasamy Paranietharan, WHO Representative in Bangladesh said they are trying to contain the emergency before it "spins out of control".  Besides vaccinations, health workers are being helped to manage suspected cases and ensure medicine supply.   WHO is procuring 2 000 doses of diphtheria anti-toxins to treat diphtheria patients. Nearly 345 doses were hand carried by WHO from India's Delhi to Cox's Bazar in Bangladesh.
Diphtheria is an infectious respiratory disease caused by a potent toxin produced by certain strains of the bacterium Corynebacterium diphtheriae. It spreads through air droplets by coughing or sneezing. Risk factors include crowding, poor hygiene and lack of immunization.
According to the UN Office for the Coordination of Humanitarian Affairs (OCHA), there are nearly 860,000 Rohingya refugees in Cox's Bazar – of whom 646,000 have arrived since 25 August. Not only has the pace of new arrivals since 25 August made this the fastest growing refugee crisis in the world, the concentration of refugees in Cox's Bazar is now amongst the densest in the world.