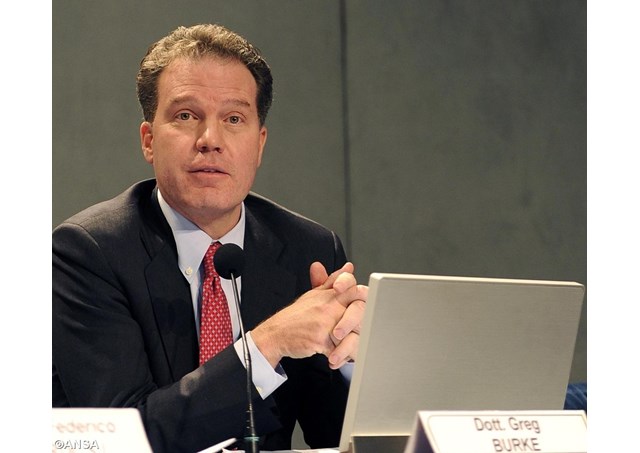 (Vatican Radio) The Director of the Press Office of the Holy See, Greg Burke, briefed reporters at the Sala Stampa on Wednesday, regarding the work of the "C9" small council of Cardinals studying the reform of the Roman Curia. The members met for three days this week, starting Monday, to discuss specific issues related to the ongoing process of Curial reform.
Listen to the report by Christopher Altieri:
Vatican Media reform
At the center of the meetings were topics including the imminent launch of the new VaticanNews multimedia portal, which the Prefect of the Secretariat for Communication of the Holy See, Msgr. Dario Edoardo Viganò, presented to the council members during the course of the three days of working sessions.
Following the briefing, Press Office Director Greg Burke told Vatican Media this latest round of meetings was essentially a look at the progress of the work accomplished, and a chance to make any adjustments needed. "The C9 meeting these three days has been, in a way, a kind of 'check up' – the kind of thing you do with a car: you check up after 10 thousand miles, or 20 thousand miles," Burke explained.
Curia: instrument of evangelization and service 
This week's meetings were also in part dedicated to a reflection on the Curia as an instrument of evangelization and service for the Pope and for local churches. The Cardinal-members participating examined in great detail four dicasteries: the Congregations for Clergy, for the Evangelization of Peoples, and for Catholic Education; the Pontifical Council for Culture.
New Dicasteries
A significant portion of the work was devoted to the examination of a report from the head of the new Dicastery for Laity, Family and Life, Cardinal Kevin Farrell, and another from the two priests responsible for day-to-day operations at the Section for Migrants and Refugees of the Dicastery for Integral Human Development, Fr. Michael Czerny and Fr. Fabio Baggio.
The over-arching concern, according to Burke, is to inculcate a spirit of service in the various departments of the Roman Curia.
Reforming mentality
"For the Pope, the reform is not only a reform of structures, and changing documents," he said. "It is above all, creating a mentality – and that is a mentality of service: that the Holy See is at the service of the local Churches." Burke went on to say this mentality must be, "a spirit of service and of evangelization." 
The meetings this week, which took place with the participation of Pope Francis, were the 22nd of the C9 working sessions, and the last of 2017. The next round of meetings will be held February 26-28, 2018.