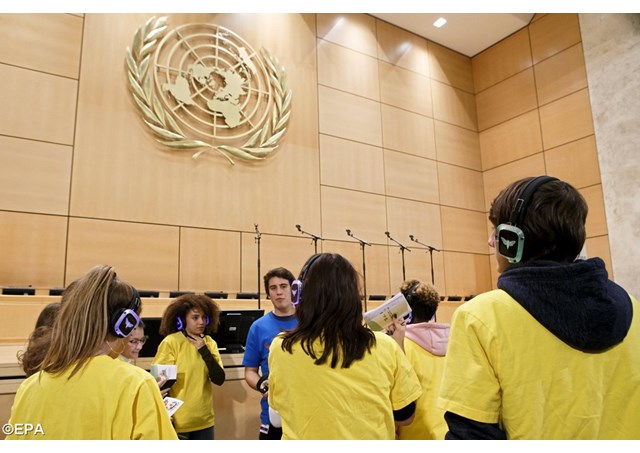 (Vatican Radio) The United Nations Children's Emergency Fund (UNICEF) has published a report entitled "The State of the World's Children, 2017. Children in a Digital World." The report examines the availability and impact of the Internet on children across the world.
According to the report 79% of children have access to the internet, compared to 48% of the total population of the world. Children in Africa are the least connected, with 3 out of 5 children being "offline." In Europe, the number of connected children is much higher. Only 1 in 25 are considered "offline."
The report contains both alarming statistics concerning online abuse and exploitation, and hope of a growing awareness of the risks associated with the internet and a willingness to tackle them.
For example, whilst 53% of the children depicted in images of child pornography are under the age of 10, that number is, in itself, down from 69% in 2015.
Although the numbers make for disturbing reading, the report also reveals that awareness of the risks of internet amongst children themselves, is on the increase.
 As part of the report, the children surveyed were asked two important questions, What do you dislike about the internet? And  what do you like about it?
23% of those surveyed  chose "Violence" as the aspect of the internet which they like least. The girls surveyed were more sensitive to violence, with 27% of girls saying they were disturbed by episodes of violence, against on 20% of boys. Both sexes were almost equally disturbed by unwanted pornographic content, 32% for girls and 33% for boys.
When asked what they liked about the internet, the majority (40%) replied with "The opportunities to learn new things for school and health." A further 20% replied with "The chance to learn things I would not have learned in school."
Forty-two percent of children reported that they had taught themselves to use the internet, whilst 39% reported help from a friend or family member.  
The Director-General of UNICEF, Anthony Lake, said of the report: "For better or the worse, digital technology is currently an irreversible reality of our lives. In the digital world our challenge is twofold: to reduce damage while maximizing the benefits of the web for every child."
Some such benefits highlighted in the report include the opportunities for children caught up in poverty or humanitarian emergencies to communicate their needs, as well as opportunities for all children to develop skills to help them work in the digital sector.