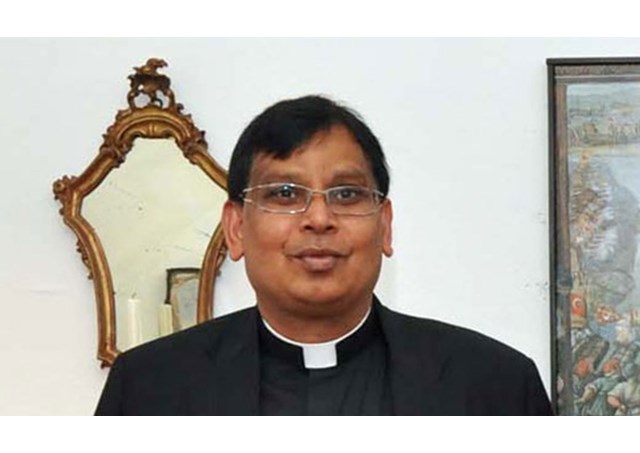 Pope Francis on Friday transferred Bishop Joseph Arshad of Faisalabad as the Bishop of Islamabad-Rawalpindi Diocese in Pakistan. With this appointment the Pope has also conferred on him the "personal title" (ad personam) of Archbishop. Earlier on 12 November 2016, Bishop Arshad was appointed the Apostolic Administrator of Islamabad-Rawalpindi, which was left vacant after the death of Bishop Rufin Anthony on October, 17, 2016.
Archbishop Joseph Arshad was born in Lahore, Pakistan in 1964 and was ordained a priest in 1991. After his ordination he was appointed parish priest of St. Joseph's Church and also given charge of St. Peter's School in Gujranwala.
In 1995, he went to Rome for Canon Law studies at the Pontifical Urban University and then underwent training as a Vatican diplomat at the Pontifical Ecclesiastical Academy.
He was the first Pakistani priest to join the Vatican diplomatic service. From 1999 to 2002 he served at the Apostolic Nunciature in Malta. From then until 2010, he served at the Apostolic Nunciatures in Sri Lanka, Bangladesh, and Madagascar. He was also the councillor at the Apostolic Nunciature in Bosnia and Herzegovina. Pope Francis on July 3, 2013 appointed Fr. Arshad as the bishop of the Faisalabad Diocese.
On December 10, 2016, he received the National Human Rights Award 2016 from Pakistan President Mamnoon Hussain for human rights advocacy. Archbishop Arshad who chairs the Commission for Social Communications as well as the National Justice and Peace Commission of the Bishops' Conference is also the president of the Catholic Bishops' Conference of Pakistan.