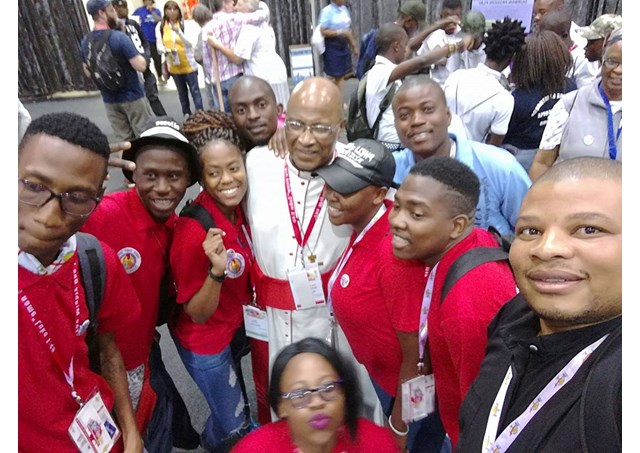 Southern Africa's Mini World Youth Day (MWYD) in Durban, South Africa, ended Sunday with South Africa's Archbishop of Durban, Cardinal Wilfrid Napier describing it as a great success.
"Great joy I can tell you at what we have been able to accomplish," Cardinal Napier remarked when he spoke to Fr. Phemelo Martin Magibisela, the Vatican Radio correspondent at the Durban event. 
Cardinal Napier commended Pope Francis for calling next year's Fifteenth Ordinary General Assembly of the Synod of Bishops on the theme, "Youth, faith and vocational discernment." According to the Cardinal, Pope Francis wants Bishops of the world to listen to young people.
"The main thing that Pope Francis is asking us to do, as Bishops, is to 'listen to the young people.' I think he (Pope Francis) is a wise man. He is not saying listen to the words they are saying, but listen to what is coming out of their hearts.  Very often the youth will say something with their mouth, but in actual fact, they are looking for something deeper than what they are saying," Cardinal Napier said. 
The Cardinal further said that apart from the questionnaire already answered and sent to Rome for next year' Synod, the delegation from Southern Africa will take to the Synod the lived experiences encountered in Durban.
"What we have seen and have heard (as Bishops) from the young people here is what our delegates (to the Synod on the Youth ) will take with full conviction because they know that what they will be saying is backed by the full experience lived during this MWYD," said Cardinal Napier.
Four thousand young people from the dioceses of South Africa, Botswana, Swaziland, Zimbabwe and Mozambique converged on South Africa's third largest city of Durban for the Mini World Youth Day which took place from 6 December to 10 December. The MWYD had as its theme the Blessed Virgin Mary's Magnificat: "The Mighty One has done great things for me, and holy is His Name."
Explaining the rationale behind the MWYD, Cardinal Napier described the youth as the future of the Church. 
"All Bishops realise that young people are a key part of the Church. That's where the formation of the future is going to be carried forward. They are the formation of the future. It's like a forest. Unless it has saplings or young trees, it going to die out. Jesus said his Church has to be here forever. We want to keep driving the Church forward. Young people are naturally the place where that growth will take place," Cardinal Napier said.
(Paul Samasumo, Vatican Radio)