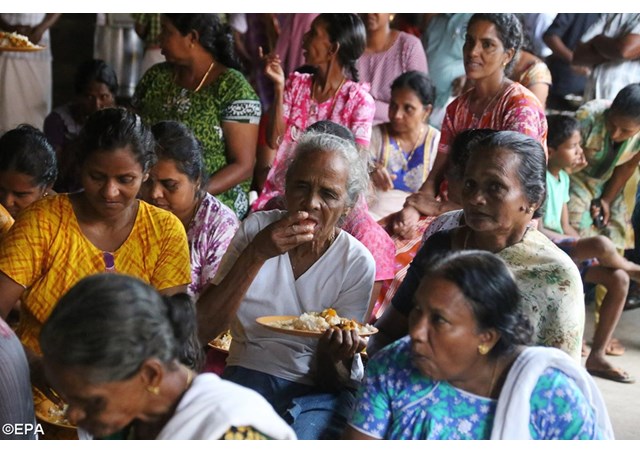 India's Catholic dioceses in the coastal regions of Tamil Nadu and Kerala states are grappling with the "massive disaster" in the wake of the cyclone Okhi, that swept by Trivandrum and Kanyakumari districts on Nov. 29.  Several hundred fishermen are feared missing, Fr. Deepak Anto, executive secretary of the media commission of the Latin Archdiocese of Trivandrum, wrote in an email to the Vatican's Secretariat for Communication urging for help. 
The cyclone originated as a depression in the Gulf of Thailand on Nov. 21 and packed in more power as it traversed across northern Indian Ocean and ended near the coast of India's Gujarat state causing damage in the coastal areas of Tamil Nadu and Kerala and in Lakshadweep islands.
Fr. Deepak said the affected Trivandrum Archdiocese and Tamil Nadu's Kottar Diocese "are very much engaged in the rescue operation and relief work" in collaboration with the state and central governments.
Trivandrum Archdiocese has appealed to draw attention to the emergency that the international and national media have "unfortunately" "not given enough coverage," Fr. Deepak said. 
Archbishop Maria Callist Soosai Pakiam of Trivandrum spoke to the Vatican's Secretariat for Communication explaining the situation after cyclone Okhi.
Listen to Arch. Soosa Pakiam:
Arch. Soosai Pakiam said figures so far have reported some 20 dead and over 585 Catholics missing from Kerala alone and the situation in neighbouring Tamil Nadu state is not very different.    He blamed the "intensity of the disaster" on the "lack of proper weather warning" about the approaching cyclone.  Trivandrum Archdioces and Kottar Diocese are engaged in rescue operations in the sea and relief work in collaboration with government agencies. 
Arch. Soosai Pakiam noted that the Kerala Bishops' Council will observe Sunday, Dec. 10 as a day of prayer for the victms of cyclone Okhi.   The following day, Monday, Dec. 11, a march had been called to the state governor to express their "sorrow, pain and anguish" and to urge rescue operations and rehabilitation work for the affected people. The archbishop appealed for prayers, solidarity and help for all.