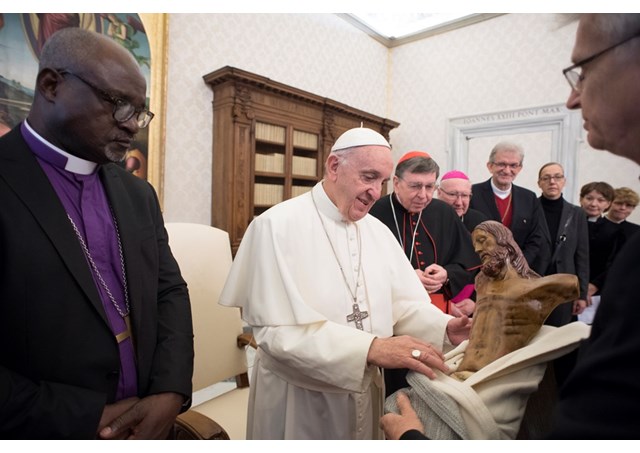 (Vatican Radio) Pope Francis met on Thursday with the new president of the Lutheran World Federation, Nigerian Archbishop Musa Panti Filibus, focusing on common prayer as the key to Christian unity.
Recalling his own visit to the Swedish cities of Lund and Malmo last year for the shared commemoration of the 500th anniversary of the Reformation, the pope said praying together purifies, strengthens and lights our way forward. Prayer, he insisted, is the fuel for our ecumenical journey.
Listen to Philippa Hitchen's report:
Through prayer, the pope continued, we are able to see the painful divisions of past ceneturies in a new light, abandoning our prejudices, purifying our memories and looking to the future with confidence. Through prayer, he said, we are called to recognize the gifts of our different traditions and receive them as our shared Christian heritage.
Reformation anniversary 'a turning point'
In his words to Pope Francis, Archbishop Musa also gave thanks for the past 50 years of progress 'from conflict to communion', acknowledging in a special way the importance of praying together to commemorate the Reformation anniversary.
"Your presence and participation in the Joint Commemoration of the Reformation in Lund was a precious gift for us. It marked the significant turning point at which Catholics and Lutherans are today".
Concrete steps to unity
Before praying the Our Father together, Pope Francis urged the Lutheran delegation, including the seven regional vice-presidents, to continue on the road to full unity, never giving in to the temptations to become tired, lazy or fearful. Good ideas are not enough, he said, but instead we must take concrete steps and hold out hour hands, working together to support the poorest and most needy as we witness together to the presence of God in our world.