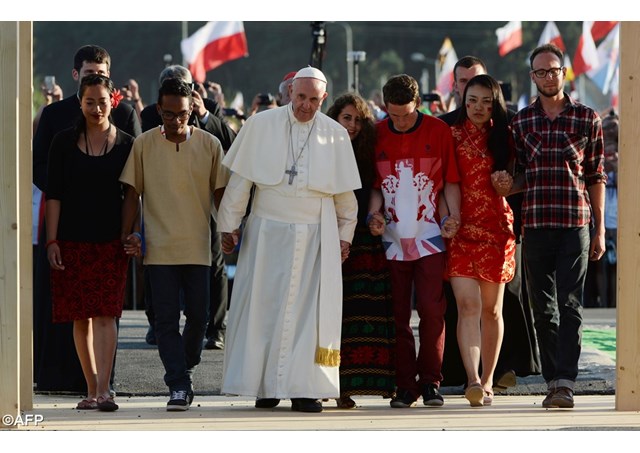 (Vatican Radio) The national Year of Youth was officially launched in Australia on Thursday with a festival which will run until the 9th of December.
The year itself which will conclude in November 2018 coincides with the ten year anniversary of World Youth Day in Sydney.
The aim of the Year of Youth, which has been organized by the Australian Catholic Bishops Conference, is to accompany and engage with young people as they discern their place in the world.
Malcolm Hart is the Director of the Office for Youth with the Australian Catholic Bishops Conference. He spoke to Vatican Radio's Lydia O'Kane about this year dedicated to young people.
Listen to the interview with Malcolm Hart:
Asked why the Australian Bishops decided to devote this year to youth, Malcolm explains that firstly, it has been 10 years since Sydney hosted the 2008 World Youth Day, also he said, "we wanted to highlight the role of young people in the Church… the whole year is about acknowledging this great anniversary, but also looking to the future of how young people are going to continue their mission in the Church."
Synod of Bishops
Next October Bishops from around the world will travel to Rome to participate in a General Synod which will focus on youth. Already, young people have been invited to fill out a survey giving them the opportunity to communicate, express and recount who they are and what they want to say about themselves. 
The Youth Director says the feedback has been very positive adding that, they held a local survey to help the Church in Australia and "they gave us some really great insights into what their challenges are". He went on to say that Australia's youth are being encouraged to tell their stories in the international survey that the Holy See is sharing.
So what can the youth of Australia look forward to over the course of this coming year? According to Malcolm, the Year of Youth is not just for young people, but for the whole Church and "we want the whole Church to turn their attention to young people. Young people, he says should feel that they are being listened to and acknowledged in a better way. They also should feel that they are safe and cared for by the Church." Pope Francis on many occasions has encouraged the youth of the world to dream and this, Malcolm emphasizes, is what Australia's youth are being invited to do.