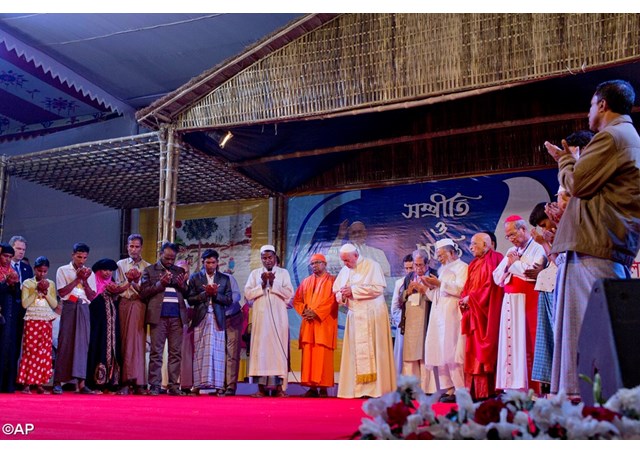 Pope Francis was on an apostolic visit to Asia last week.  He visited Myanmar, Nov. 27-30, after which he flew to neighbouring Bangladesh from where flew back to Rome on Dec. 3.   The motto of the Nov. 30-Dec. 3 Bangladesh trip was "Harmony and Peace". 
Following the trip, we phoned Cardinal Patrick D'Rozario, Archbishop of Dhaka, to know about how he felt the visit went like, and he was exuberant about it.
Click to listen to Cardinal D'Rozario:
Cardinal D'Rozario expressed gratitude to God, the Bangladesh government and the Vatican for the success of the papal visit.   Both the nation and the Church, he said, are very happy with the outcome. 
Minister of the Gospel
In a video message to the nation ahead of his visit, the Pope had outlined 3 main objectives of his Dhaka trip, which the cardinal said have been achieved and which the nation also experienced.   In the message the Pope had said he was coming as the "minister of the Gospel of the message of Jesus Christ to proclaim the message of reconciliation, forgiveness and peace."  The cardinal said this was evident in all the papal events, especially in the interreligious and ecumenical gathering of religious leaders which he described as a "celebration of harmony" peace and reconciliation that was particularly felt in the encounter with the Rohingya refugees. The event was also a moment of prayer in which representatives of all religions participated.
Confirming the faith
Card. D'Rozario said that the Pope's second goal was to "confirm the faith of the Catholic Church" which he said did happen.  He said, more than 80,000 people who came together could see and hear him and it was "surprising that he went all around and so many people could touch him".   People were very happy they could see him from nearby and also "pray with him and be united with him." 
The 74-year old cardinal said the Pope's visit also gave a "sense of identity" to Bangladesh's Catholics, who though a minority, felt they are "somebody"  in the nation.   The Pope gave them a "big encouragement" which made them "feel big".
Pope Francis also outlined the pastoral priorities of the Church when he met the bishops of the nation, which the cardinal said are very "prophetic and relevant".  Bangladesh's first cardinal, as well as the world's first cardinal from among the Bengali-speaking people noted that the Holy Father was very pleased with the communion between the faithful, clergy and the hierarchy, and he also encouraged the promotion of the laity.
Rohingya – the climax
But the climax of the entire Bangladesh visit, according to the cardinal, was the interreligious dialogue and ecumenical meeting which was a "celebration of real harmony, culture and religious relationship"  which also included a "dialogue with the poor", especially in meeting with the Rohingya refugees at the end.  Everybody saw how the Holy Father received the Rohingya, and  all the religious leaders embraced the  refugees.  So it was "a celebration, a festival" which itself was dialogue, the cardinal said.  According to him, the papal visit was "excellent" and it has left a "big mark" not only among the Christians but also among the people of other religions.  Card. D'Rozario said all were "enthusiastic and participated" in the various events; the media was very positive about the visit and the Pope's use of the name of Rohingya  is "a big gift to Bangladesh."