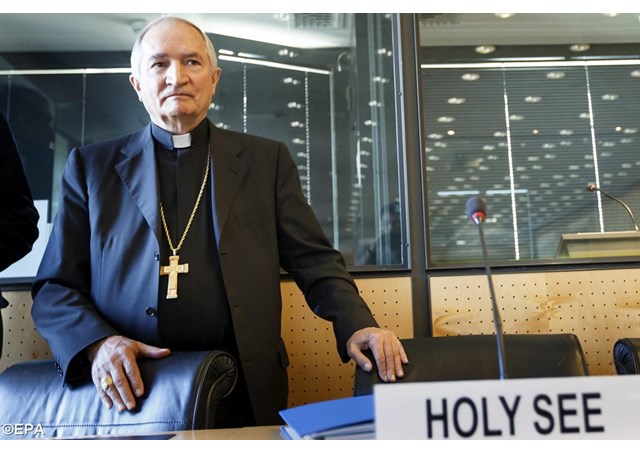 (Vatican Radio) Ahead of an expected decision by the U.S President on Wednesday to recognize Jerusalem as the new Israeli capital, a top Vatican official said the move will add "fuel to the fire" of conflict and instability across the Middle East.
Archbishop Silvano Tomasi, former Vatican envoy to the U.N. in Geneva, said any move away from the Status Quo in Jerusalem "could have unforeseen consequences". He added: "My prayer is that [….] the recognised neutral status of Jerusalem, accessible for the three religions, Christian, Jewish and Muslim, will continue to be so".
Palestinians and Arab leaders across the region have criticized President Trump's decision, which includes a plan to move the U.S. embassy from Tel Aviv to Jerusalem.
Listen to Archbishop Silvano Tomasi speaking with Philippa Hitchen
Archbishop Tomasi said the planned move "is certainly not a gesture of openness for dialogue". While he said it was difficult to predict the consequences, he said he feared "we will continue to see this tragedy of violence, destruction" and the forced movement of refugees, adding that "simple people, normal families will pay the highest price".
The former Holy See ambassador, who currently serves as advisor to the Vatican's office for Integral Human Development, endorsed the appeal made by Pope Francis earlier on Wednesday to maintain the Status Quo of Jerusalem.
He noted that in the United States the pope's voice "is highly respected and listened to by a lot of people, so even for a simple political calculation, it would be useful for everybody to listen to the invitation the pope directs to all parties concerned".
Archbishop Tomasi added that the reported phone conversation between the pope and Palestinian leader Abu Masen showed signs of "good will to talk, to negotiate". But he said the dialogue "has to be enlarged to involve all participants regarding this issue, above all the Israelis".
He added that Israel must not allow its own interests to "disrupt what the UN has repeated many times, and what has also been the logical and coherent position of the Holy See for all the past decades".