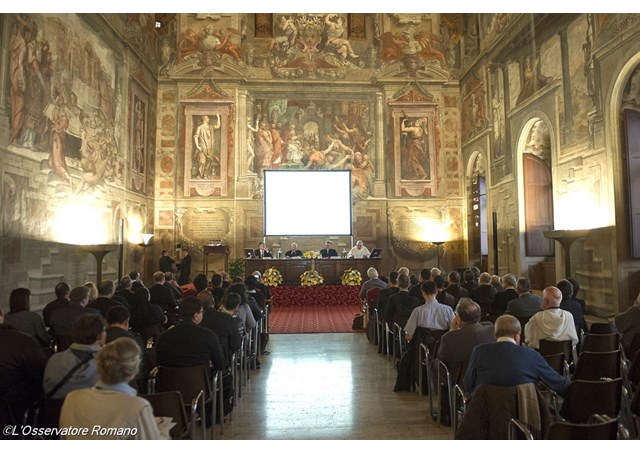 (Vatican Radio) Pope Francis on Tuesday greeted Vatican academics and urged them to speak to the hearts of young people while passing on the knowledge and the wisdom of the Fathers.
The Pope's words came in a message addressing members of the Pontifical Academies as they held their 22nd Public Session on the theme: "In Interiore homine".
Liste to the report by Linda Bordoni:
It's an event that takes place every year in Rome's Palazzo della Cancelleria. The participants' works are introduced by Cardinal Gianfranco Ravasi, President of the Pontifical Council for Culture and of the Coordination Council of the Pontifical Academies, and prizes are awarded in different categories. 
Just before awarding this year's prizes, Cardinal Secretary of State Pietro Parolin read a message sent by Pope Francis in which he expressed his hope that the recognitions represent an encouragement to reflect upon and keep alive the concept of the absolute centrality of mankind in the Christian and human experience as expressed by classical Latin and Christian authors.
The Pope welcomed the new entry in the group of the Pontifical Academy Latinitas which was instituted by Pope Benedict in 2012 with the task of "supporting the commitment for a greater awareness and more competent use of Latin, in the ecclesial area and in wider culture". 
He recalled the Fathers of the Church and the Latin writers of the first Christian millennium focusing in particular on the figure and on the role of St. Augustin whom, he said, "taking cue from his personal experience as witnessed in his 'Confessions', offers us unforgettable pages" of wisdom.
Quoting from St. Augustin's "De vera religione" and from his "Tractates" on the Gospel of John Pope Francis reflected on the importance and on the significance of knowing oneself, a concept which, he said, is central also to many other classical writers and philosophers and pointed out that it is an essential theme for contemporary man as well. 
"Dear Friends, he said, like Saint Augustin I would like to appeal to you Academics and especially to those of you who have the responsibility of teaching and transmitting the wisdom of the Fathers that is to be found in the texts of Latin culture: speak to the hearts of young people, safeguard the treasure of the incredible patrimony of the Latin tradition in order to educate them in the journey of life and accompany them on paths that are rich in hope and in trust, drawing from the experience and the wisdom of those who have had the joy and the courage 'look within' in order to follow their own identities and vocations."