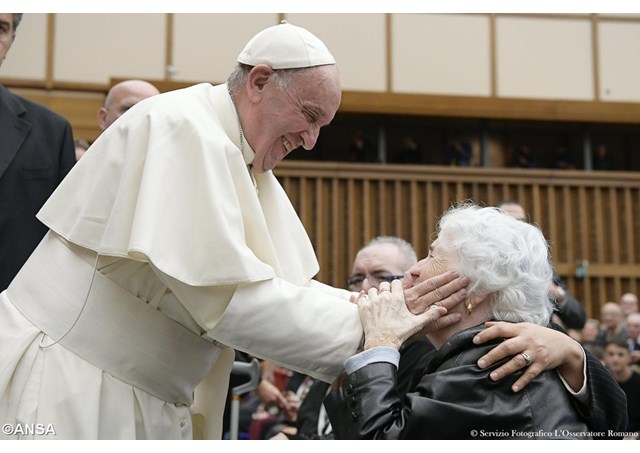 (Vatican Radio) Pope Francis has revealed his prayer intention for the month of December, which is "for the elderly".
In a video message explaining the prayer petition, the Pope said "a people that does not take care of grandparents, that does not treat them well, has no future."
He added that the "elderly have wisdom, they are entrusted with a great responsibility: to transmit their life experience, their family history, the history of a community, of a people."
The Pope prayed: "Let us keep in mind our elders so that sustained by families and institutions, they may with their wisdom and experience collaborate in the education of new generations."
Care and respect for the elderly has been a prominent issue addressed by Pope Francis throughout his pontificate. Last year he hosted a meeting marking National Grandparents' Day in Italy and in 2015 he gave two Wednesday audience catechises on the elderly, pointing out that old age has a grace and a mission" and is "a true vocation from the Lord."
The monthly videos detailing the Pontiff's prayer intentions are promoted by the "Pope's Worldwide Prayer Network," an organisation dedicated to assisting the mission of the Church and addressing the challenges facing humanity. The group encourages Catholics from around the world to submit ideas for prayer petitions and presents a selection of them for the Pope to choose for each month.
(Richard Paul Marsden)
Click below to watch the video message: