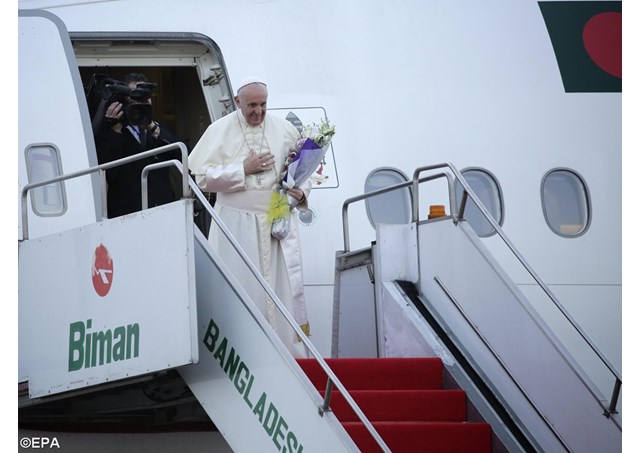 (1)愿天主的智慧帮助我们懂得如何接纳那些在思想和行为上与我们不同的人。
La sapienza di Dio ci aiuta a sapere come accogliere e accettare coloro che agiscono e pensano diversamente da noi.
May the wisdom of God help us to know how to welcome and accept those who think and act differently from us.
Dei sapientia nos adiuvat ut eos accipiamus qui aliter ac nos sentiunt.
(2)亲爱的缅甸和孟加拉国朋友们,谢谢你们的款待!我祈求天主为你们赐下和谐与和平的降福。
Cari amici di Myanmar e Bangladesh, grazie per la vostra accoglienza! Invoco su di voi le divine benedizioni di armonia e di pace.
Dear friends in Myanmar and Bangladesh, thank you for your welcome! Upon you I invoke divine blessings of harmony and peace.
Amici cari Myanmarenses et Bangladesani, de nobis receptis gratias agimus! In vos Divinam concordiae pacisque benedictionem invocamus.