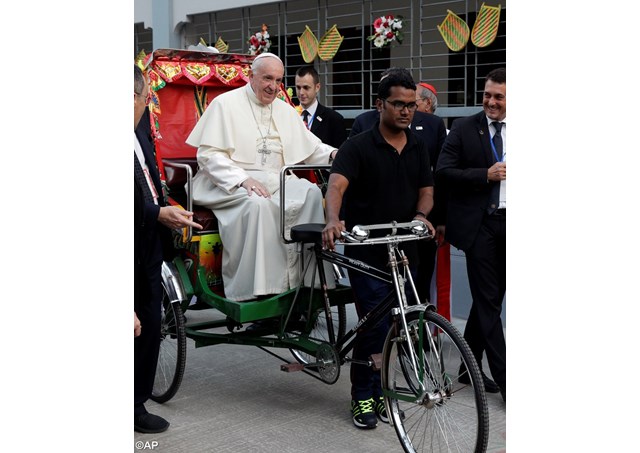 Young People are awaiting Pope Francis' visit on Saturday afternoon to Notre Dame University of Dhaka. This will be his last  discourse in Bangladesh before he returns to the Vatican.
Our correspondent Fr. Sanjay Ekka who met the vice-chancellor of the University Dr. Fr. Patrick D. Gaffney CSC was briefed about the excitement and eagerness of  the students to meet  and interact with the  Holy father.
"I am so excited to see the Holy Father" said Christin Proma Georgy of the BBA department while her Muslim friends she said are wonderstruck to know that the Holy Father is visiting their campus.  Proma also shared that she feels blessed that she is performing a cultural dance for the Holy Father.   A group of  boys on the other hand she said are sad that they are not selected for the dance yet are thrilled as they would soon see the Pope in their campus.
The university is colourfully decorated with flags and Rangolis according to the local tradition. A huge stage and a massive  playground  is all ready to accommodate the students of about 10 to 12 other universities and colleges.
Notre Dame College, an educational institute run by the Congregation of Holy Cross Fathers was established in 1949 and since then has been serving the nation with a long standing tradition of excellence in academics and sound moral principles. 
The objective of the Institute is the harmonious development of the intellectual, physical, social, moral and spiritual needs of the students. Everything done there echoes the values they nurture.
 The University caters to the needs of  90% of Muslim students and the rest are Hindus, Christians and Buddhists.