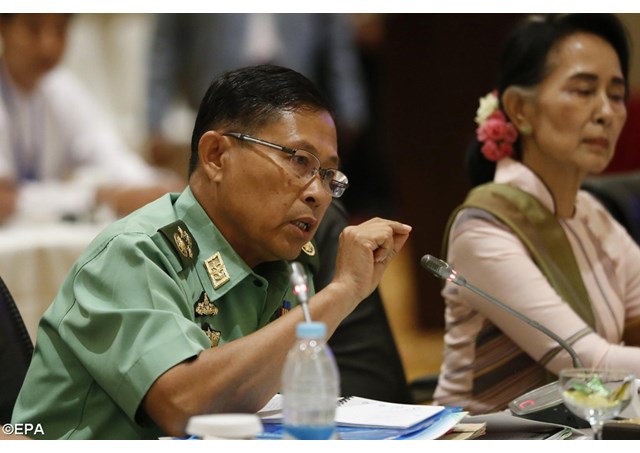 The Burmese government announced the third session of the Panglong Peace Conference for the last week of January. This  was agreed upon at the 6th Joint Implementation Coordination Meeting (JICM) in Naypyitaw on Monday.
The Burmese government's announcement for the third session of the Panglong Peace  Conference comes as an initiative to continue a path of meetings and negotiations with armed ethnic groups with whom the Burmese army fought for over 60 years.
Meeting the Country's leaders and Supreme Sangha Council of Buddhist Monks  Pope Francis expressed appreciation for the efforts they  make through the Panglong Peace Conference to end violence, build trust and to ensure respect for the rights of all citizens.  He assured his prayerful support in their effort of bringing peace in the country.
The Burmese government in Oct 2015, signed a ceasefire agreement with eight armed organizations with the  commitment of Aung San Suu Kyi, promoter of the Peace Conference with ethnic minorities.
The topics that will be discussed in the January meeting include some aspects and steps forward of the national political dialogue with the groups, including Shan minorities, and also the Muslim groups in the Rakhine state, that Arakan Liberation Party which agrees to dialogue with the government and constitutes a representation of the rohingya people. The aim of the Conference is to find a framework agreement for all armed minorities and thus to establish stable peace in the country.
The news of the Conference was welcomed in Burmese civil society and Catholic communities. The Christian Solidarity Worldwide International Organization stated in a note sent to Fides: "We ask the government of Myanmar to allow access to international humanitarian aid organizations in the Rakhine state, and to put an end to serious human rights violations in the Kachin and Shan states, seriously opposing the campaign of religious nationalism, intolerance and hatred that is registered throughout the country". (FIDES)