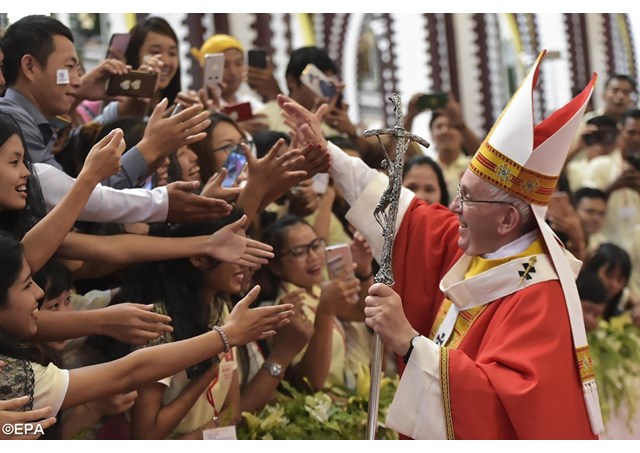 (Vatican Radio) Pope Francis's just ended apostolic journey to Myanmar is being acclaimed as a wonderful moment for the Church in the nation.
Jesuit father Mark Raper – who has a long experience of service in Asia – and who has just recently been re-assigned to be the Superior of the Jesuits in Myanmar, was amongst those welcoming the Pope in Yangon and explains that the Pope's presence was perceived as a "tremendous gift to the country: a gift felt by all".
Speaking to Philippa Hitchen as the first leg of Francis' apostolic journey came to an end, Fr.  Raper said that the Pope's approach gave the Church – which is a tiny minority in Myanmar  – a beautiful "profile of gentleness, of compassion of not judging – but of accompanying, listening and learning".
Listen to the interview:
Father Mark Raper SJ was present during the Pope's unscheduled meeting with his Jesuit brothers in Yangon and he speaks about how Francis reflected on the "gift of feeling ashamed" and said that he felt ashamed to see "that people do so much and give so much to be able to come and see the bishop of Rome"  and this is something that further strengthens his faith.
History of the Jesuits in Myanmar
He recalled the history of the Church and in particular of the Jesuits in the country that was once called Burma and he talked of their mission in the country where they are particularly committed to education, to vocational training and to the formation of seminarians.
Religious freedom in the country
Fr Raper highlighted the respect the people in Myanmar have for all religious people and pointed out that the social difficulties the outside world perceives have to do with issues that have to do with deep-rooted ethnic enmity.
Rise in Buddhist extremism 
He saids "the purity of Buddhism is being corrupted when a military dictatorship attempts to bend it to its knees" and points out that in the case of Myanmar a fundamentalist approach is being used to justify a very serious oppression of people.
Raper also spoke of the situation in Rakhine State and of the difficulties of Aung San Suu Kyi as she struggles to deal with the very serious humanitarian crisis that is unfolding with the refugee exodus into Bangladesh. He explained that the history of the Burmese – who lived for six decades without a sense of their own rights – has made it hard for them "to understand that other people have rights too", and that right now it is a learning situation in Myanmar as regards human rights, tollerance and solidarity.
Rakhine State crisis
He described the crisis in Rakhine State "is a crisis that has been decades in the making through decades of misrule and neglect". Raper also expressed his belief that although a three-day papal visit can't immediately change the situation it certainly represents an important step forward in getting the people to understand that what is happening in Rakhine State is a disaster and needs to be addressed.