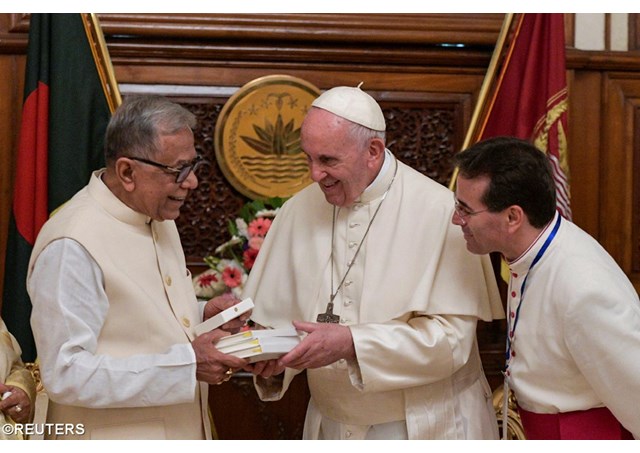 (Vatican Radio) Pope Francis has urged the international community to "take decisive measures" to resolve political issues that have caused the mass exodus of Muslims in Myanmar's Rakhine State.
Thanking the nation of Bangladesh for having welcomed so many refugees in his first speech in the country shortly after his arrival in Dhaka, the Pope also appealed to world governments to immediately provide material assistance to the Bangladeshi government as it struggles to cope with the demands of about one million displaced people just inside the border.
He was addressing State authorities, leaders of civil society and diplomats gathered at Dhaka's President House at the beginning of his two and half day apostolic journey to the nation.     
Listen to the report by Linda Bordoni:
Arriving in Bangladesh from Myanmar on Thursday afternoon, Pope Francis delivered a powerful speech before Bangladesh President Abdul Hamid, government officials and ambassadors from around the world praising the nation's sacrifice and generosity in welcoming in so many refugees from Myanmar's Rahkine State "before the eyes of the whole world".
And in a strongly worded appeal he said it was "imperative"  for world governments to immediately provide assistance to help the Bangladeshi government cope with Asia's worst refugee crisis in decades.
"None of us can fail to be aware of the gravity of the situation, the immense toll of human suffering involved, and the precarious living conditions of so many of our brothers and sisters, a majority of whom are women and children, crowded in the refugee camps" he said.
"It is imperative, the Pope continued, that the international community take decisive measures to address this grave crisis, not only by working to resolve the political issues that have led to the mass displacement of people, but also by offering immediate material assistance to Bangladesh in its effort to respond effectively to urgent human needs".
And in his speech of welcome to Pope Francis, President Hamid made use of the situation demanding international help to return the refugees safely to their home country of Myanmar.   
Pope Francis won't visit the refugee camps while in Bangladesh but he will host an interfaith peace meeting on Friday in the garden of the Dhaka archbishops' residence at which a small group of Rohingya refugees are expected.
He mentioned this event as a priviledged moment during which he intends to pray for peace together with other religious leaders and to reaffirm their shared commitment to work for peace. He described Bangadesh as a land of interreligious harmony and freedom and of mutual respect.
And finally, recalling last year's brutal attack in Dhaka in which 29 people were killed by islamic terrorists, he warned against using the most holy name of God to justify hatred and violence against our fellow human beings.