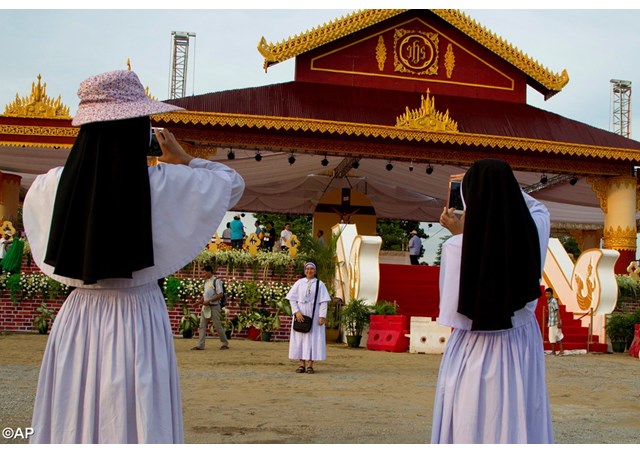 (Vatican Radio) Pope Francis on Wednesday morning celebrated Mass at a sports ground in central Yangon, on the third day of his pastoral visit to Myanmar.
As our correspondent in Yangon, Philippa Hitchen reports, the event marked a highlight of his journey for the small Catholic Church in the country….
Listen to her report:
This was the moment the Catholic community in Myanmar had been patiently waiting for, since the pope's arrival in the country two days ago. As he acknowledged in his homily, many of the faithful had come to Yangon from remote, rural villages or mountainous communities and had journeyed for several days on foot, by train, bus or the uncomfortable, open-sided trucks that are the most common form of transport here. They'd been camping out close to the sports ground since Monday, in anticipation of  this historic, first papal Mass on Burmese soil.
Myanmar's turbulent history
The Kyaikkasan ground itself, built under British rule as Rangoon's racecourse, is closely connected to the turbulent past century of the country's history. During the years of military dictatorship, following the 1962 coup, it was used as a temporary detention centre. Following the death of Burma's most famous diplomat, former U.N. Secretary General, U Thant, his coffin was briefly displayed here, before being seized by students protesting against the military's refusal to honour their globally respected political leader.
Healing memories of the past
Pope Francis in his homily alluded to this turbulent history, noting how "many in Myanmar bear the wounds of violence" and are searching for ways to heal "every hurt and every painful memory". While we often try to do this through anger and revenge, he said, it is only through forgiveness and mercy that we can truly find healing in our hearts. He described this loving mercy, modelled by Jesus on the Cross, as kind of "a spiritual GPS" that unfailingly guides us, even when we seem to have lost our way.
Witnessing to love and compassion
The pope praised the small flock in Myanmar for its tireless work among the poorest and most vulnerable people, mentioning especially the local Caritas and the Pontifical Mission Societies. But there are many other small groups of Catholics, up and down this country, working in schools and clinics, refugee camps and rehabilitation centres, quietly witnessing to those values of loving kindness and compassion.
'Stirring experience' for small flock
For all those people, this was truly a unique event, quite unimaginable until just a few months ago when the papal visit was first announced. Cardinal Charles Bo, at the end of Mass, described it as a "stirring experience" for this little flock.  An event that may hopefully, in some small way, be part of the national healing process that's so urgently needed here.