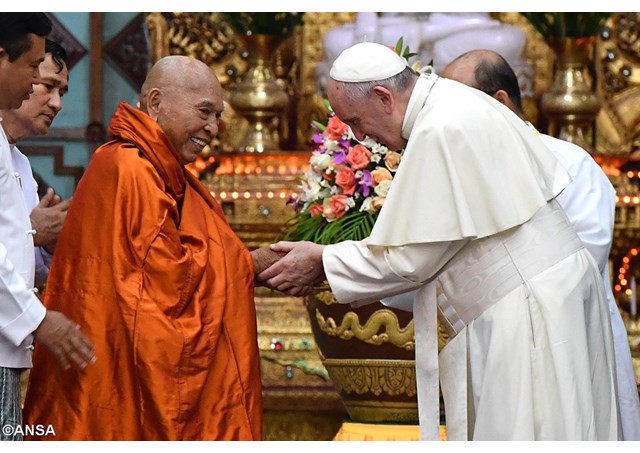 (Vatican Radio) Pope Francis had an action-packed afternoon in Myanmar on Wednesday, meeting with the nation's Buddhist leaders at a peace Pagoda and with the country's Catholic bishops at the Archbishop's residence where he's staying. He also managed to squeeze in an unscheduled encounter with the local Jesuit community there, as he likes to do on every foreign journey.
Philippa Hitchen is in Yangon and reports that the focus of the day's events was on the role of all religions in shaping society through the shared values of justice, dignity and peace.
Listen to her report:
The meeting with Buddhist leaders was a very formal affair, with a row of barefoot monks, wrapped in their maroon or rust coloured robes, seated in stiff backed chairs opposite the pope and the rest of the Vatican delegation. An occasion for official speeches rather than animated interfaith discussions.
Nevertheless, the pope spoke emphatically about the need to strengthen friendships between believers of different faiths, promoting that culture of encounter that can "surmount all forms of misunderstanding, intolerance, prejudice and hatred". He quoted from a famous collection of Buddha's verses and encouraged recent efforts by religious leaders to meet together and discuss increased cooperation.
Weaving peaceful interfaith relations
In a similar way, with Catholic bishops later in the day, the pope returned to the theme of both interfaith and ecumenical relations, a pivotal part of the Church's life here, where Catholics are a small minority within both the Christian and the wider Buddhist community.
He talked about weaving peaceful relations among people of different faiths, reminding me of the delicate designs I've seen woven into the brightly coloured clothes of the many different ethnic groups here.
Bishops must be prophetic voice
He told the bishops they must be healers, helping to overcome the scars of conflicts that continue to impede peace and development. He urged them to accompany their people, like shepherds who "bear the smell of the sheep", going out into the fields and villages, rather than staying inside the sacristies of their churches.
Finally, he urged the bishops to be a prophetic voice within their rapidly changing society, asking them to focus especially on the environment, taking care of this nation's "rich natural resources for the benefit of future generations". 
Priority of environmental protection
I only wish he had time, as I did last week, to visit the new Holy Cross church, built at the foot of a mountain in the spectacular Kachin National Park. Located at the source of the Irrawaddy river which runs the length of the country, the church is managed by La Salette Father Jerome Eiphan, whose dream is to develop a centre for environmental protection. Funding is scarce and the challenges are many, yet it's a good example of how the Church here is quietly promoting those values of justice and peace that the pope was talking about today.