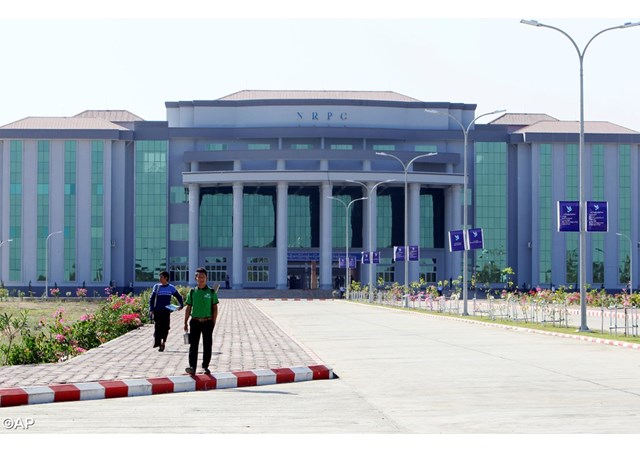 (Vatican Radio) On the first full day of his journey to Myanmar, Pope Francis travels on Tuesday to the new capital city of Nay Pyi Taw for an official welcome ceremony at the presidential palace.
Our correspondent for this visit, Philippa Hitchen, also went to visit the city and sends this report…
Listen: 
Nay Pyi Taw, where Pope Francis travels on Tuesday to meet the president and popular Burmese leader, Aung San Suu Kyi, is unlike anything I've ever seen before.
It's a four hour drive north from Yangon, on the road to Mandalay (literally!) although the pope is taking a short plane trip to the city, which was purpose built by the former military government, just over a decade ago. Its name means 'Abode of the King' and it was designed to showcase what the rulers of the day hoped would be the nation's rapid transformation into a leading Asian economic powerhouse.
Purpose built modern metropolis
Almost overnight in 2005, administrative offices were transferred, lock, stock and barrel from Yangon to the new site, which was officially inaugurated with a giant military parade the following year.
The part of the city that the pope – and most other visitors - see is an eerie ghost town of wide, empty roads, lined with gleaming government offices, huge luxury hotels and amusement parks that light up like a kind of Disneyland after sundown.
Giant presidential complex
At the heart of this strange, modern metropolis lies the colossal presidential palace complex, surrounded by gardens, with a moat and tall, iron railings. It's inside this vast building that the pope begins his visit, meeting privately with both President Htin Kyav and Aung San Suu Kyi, officially the State Counsellor and Minister for Foreign Affairs, although most people here call her simply 'The Lady'.
Peace, reconciliation and minority rights
After that, Pope Francis goes onto a giant convention centre to give his first address to government leaders, diplomats and the country's ruling elite. It's here that everyone will be listening very attentively to his words about peace and reconciliation, religious freedom and the rights of Myanmar's many ethnic minorities that are likely to be key themes on this short, but vital papal visit the region.