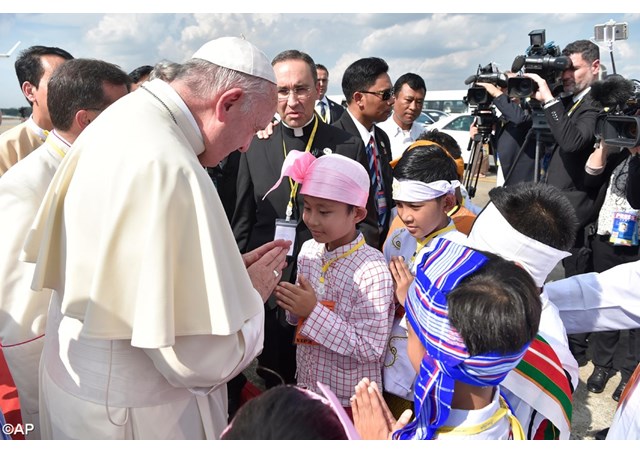 (Vatican Radio)  Pope Francis arrived in Yangon on Monday afternoon to crowds of cheering and dancing faithful, as he begins his Apostolic Journey to Myanmar.
The Holy Father was greeted at Yangon's airport by the Apostolic Nuncio to Myanmar, Archbishop Paul Tschang In-Nam, and the country's bishops.
Also welcoming the Pope was a state delegate representing Myanmar's President Htin Kyaw.
Hundreds of faithful robed in traditional dress lined the streets to express their joy for Pope Francis' arrival through dance and song.
Pope Francis celebrated Holy Mass in private at the Archbishop of Yangon's residence before having dinner and resting for the remainder of the day.
He flies on Tuesday to Myanmar's capital, Nay Pyi Taw, where he will make a courtesy visit to the president and meet with State officials and members of civil society.
In-flight greetings
Aboard the papal plane bound for Myanmar, Pope Francis briefly greeted the journalists accompanying him on his 21st Apostolic Journey.
He thanked them for their accompaniment and work, which, he said, "always bears fruit".
The Pope also wished them a safe trip and said, "They say it is too hot now [in Myanmar]. I'm sorry, but may it be fruitful nonetheless."