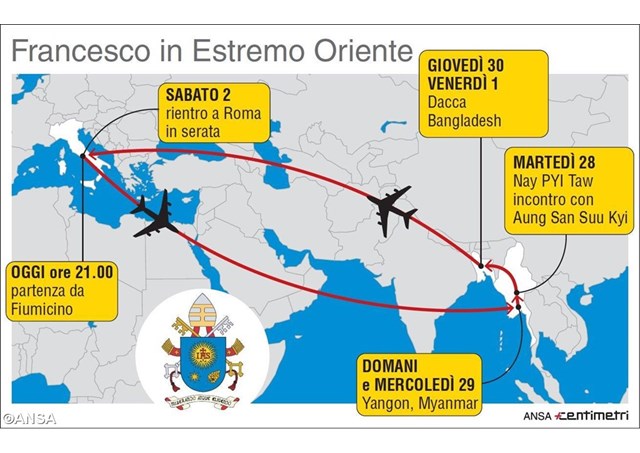 (Vatican Radio) On Saturday evening, Pope Francis made his customary visit to the Basilica of Santa Maria Maggiore ahead of his departure for Myanmar and Bangladesh.

The Holy Father routinely goes to the Basilica to pray to Mary before departing on his various Apostolic Journeys. At the Basilica, Pope Francis typically lays a bouquet of flowers before the icon of Our Lady Salus populi Romani ("health/salvation of the Roman people").
Later on Sunday, following the traditional Angelus in Saint Peter's Square, Pope Francis mentioned his upcoming Journey. Speaking to pilgrims present for the Angelus, the Holy Father said, "I ask you to accompany me with prayer, that my presence might be for those peoples [of Myanmar and Bangladesh] a sign of closeness and of hope."
Earlier, in video-messages to the people of Myanmar and Bangladesh, Pope Francis said he is coming to their countries to confirm "the faith and Gospel witness" of their respective Catholic populations. The Pope expressed his hope that his visit would be a "source of hope and encouragement" to all.