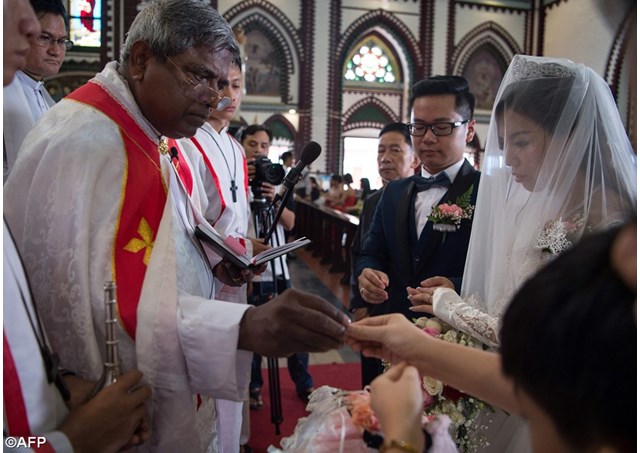 (Vatican Radio) Pope Francis on Saturday addressed the participants of a training course for clerics and laity held by the Apostolic Tribunal of the Roman Rota.
In his prepared remarks, Pope Francis focused on new matrimonial norms and Super Rato procedures.
In particular the Pope said, "it is necessary to give greater attention and proper analysis to the two recent motu proprios: Mitis Iudex Dominus Iesus and Mitis et misericors Iesus, in order to apply the new procedures that have been established."
Spirit of the Synod
These two measures, he said arose "from a synodal context, and are the expression of a synodal path." The Pope explained that the Synod had the purpose of promoting and defending marriage and the Christian family.
Pope Francis also urged those gathered to strive to be missionaries and witnesses of the spirit of the Synod when they return to their communities. He stressed the importance of "pastoral consolation," which is the goal of the new matrimonial norms.
"Let that synodal spirit," he said, "become the basis of your action in the Church, especially in such a delicate field as marriage and the family."
The Pope told the participants, that they were called "to be close to the loneliness and suffering of the faithful waiting for ecclesial justice and to provide the help needed to regain the peace of their consciences and the will of God on readmission to the Eucharist."
Role of Diocesan Bishop
During his discourse Pope Francis said he had decided to definitively clarify some of the fundamental aspects of the two recent motu proprios, in particular the role of the diocesan bishop.
In a series of points the Holy Father said the diocesan bishop was the natural judge in the new "shorter process." He added that the shorter process was not simply another option that the Bishop may choose; rather, it is an obligation that comes from his consecration and the mission that has been entrusted to him.
The Pope also underlined several fundamental criteria for the shorter process: mercy, in the first place, and closeness and gratuity, which the Holy Father said "are the two pearls the poor need, and which the Church must love above all else."