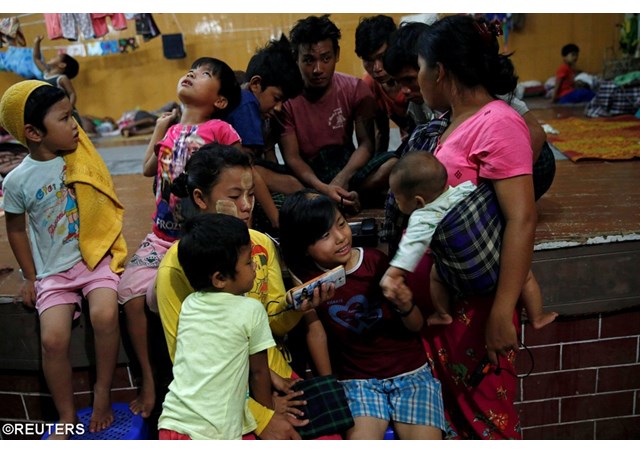 (Vatican Radio) Pope Francis arrives in Myanmar on Monday, November 27th to shine the spotlight on the tiny Catholic Church in the country, which has recently emerged from over half a century of military rule.
Catholics comprise just over one percent of the population, with most of them living in the poorest, rural parts of the country. Among the top priorities of the Church is to provide education and employment opportunities for young people, millions of whom have been forced to emigrate to China, Thailand, Malaysia or the Middle East in search of work.
In this context, human trafficking remains a major problem, despite the U.S. removing Myanmar from a list of the worst offending countries earlier this year. In its 2017 Trafficking in Person report, the U.S. commended the government for its efforts to stop recruitment of child soldiers and its first prosecution of government officials under a human trafficking law.
Sr. Rebecca Kay is coordinator of the newly founded Myanmar branch of Talitha Kum, the international network of religious  working to eradicate trafficking. She talked to Bianca Fraccalvieri of Vatican Radio's Brazilian programme about the work of her organisation and about expectations for Pope Francis' visit to the country
Listen to the full interview:
Sr. Rebecca notes that this is the first ever visit of a pope to Myanmar and Catholics are "very proud of it", despite the crisis the country is facing.
Though the Catholic Church is a very small minority, she says peoples' faith is very strong. Most Catholics are poor, tribal people in the largely Buddhist nation. She says people were disconnected from the Church for so long, under military rule, that the pope's visit is "a blessing".
Hopes for peace and reconciliation
Sr. Rebecca says Catholics from all the different dioceses are preparing to go to Yangon, many travelling from a long way away. People need to register because of security regulations, so bishops, priests and religious are helping people to prepare for the journey.
She says the country needs peace and reconciliation, as people have suffered for a long time, especially tribal people, so there is great hope that the visit will bring unity. It's not just Catholics who are waiting to welcome the pope, she says, but also Buddhists and other Christian minorities.
She says the "ruling government is trying very hard for peace now", so she people hope the pope's words will be an encouragement for the government.
Poverty and political instability
Sr Rebecca also talks about the work of Talitha Kum which was established in Myanmar in March to create awareness among religious men and women, who know the problem of trafficking exists but don't know how to handle it.
She says that men, women and children are all victims in Myanmar. Men are being trafficked in the fishing industry, while women are mostly in the sex industries, and children work as beggars. Anybody can be trafficked, she says, and people are very vulnerable because of the poverty and political instability.