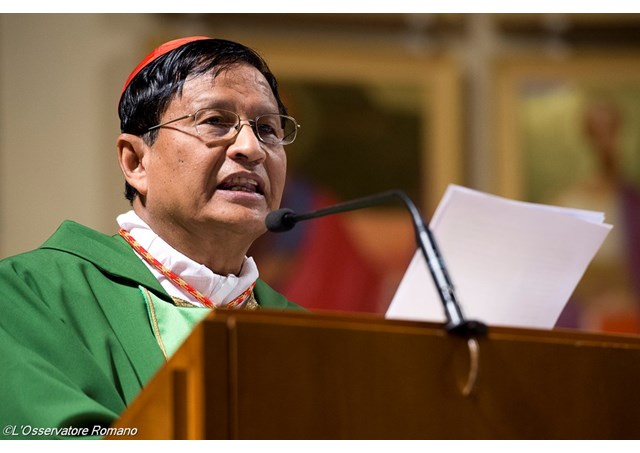 (Vatican Radio) On Sunday Pope Francis is scheduled to leave Rome, headed for Myanmar and then Bangladesh on his 21st apostolic journey abroad.
The Holy Father is due to arrive at Yangon's international airport on Monday 27th and spend three days in Myanmar, travelling to the new capital, Nay Pyi Taw for talks with the president and with State Counsellor Aung San Suu Kyi. In Yangon he is due to meet with the nation's Buddhist leaders and with the Catholic bishops, as well as celebrating two Masses, before departing for Bangladesh on November 30th.
It's the first ever papal visit to the nation, formerly known as Burma, which suffered over half a century of oppressive military rule until elections in 2015, which were won by the National League for Democracy (NLD) led by Aung San Suu Kyi.
Ahead of the pope's departure, Philippa Hitchen spoke to the Archbishop of Yangon, Cardinal Charles Bo and asked him about the progress towards democracy in his country…
Listen to the full interview:
Cardinal Bo says that in the past the country's ruling party was made up exclusively of Burmese Buddhists, but now the party includes other ethnic groups, and "not only the Buddhists, but also the Christians and other religions. That's one big progress", he says.
Democracy still fragile
Another prominent change he points to is that people now have smart phones, newspapers and journals so they have more freedom of expression. Under the leadership of Aung San Suu Kyi, he says, the NLD has been making progress in civil administration, through the military is still very powerful and "we see that our democracy is still very fragile".
The army, he continues, still controls defence, border issues and home affairs, so Aung San Suu Kyi's authority is "quite restricted and constitutionally she has no voice to speak against the army".
Military aggression in Rakhine state
Commenting on the criticism of her silence during the attacks on villages in northern Rakhine state, which led to a major humanitarian crisis, the cardinal says the international community has been "a little exaggerated" because foreign media "is very strong, especially Al-Jazeera", while local media "is very weak and we don't have much ability to reach the international community".
While he prefers not to use words like genocide or ethnic cleansing, he says the Myanmar military "responded in a very violent way" to the attacks by Rohingya militants on police outposts. He insists there's "no comparison" between the "small" militant attacks, and the government which "attacked in a very aggressive way with bombings and shooting and burnings".
Call to stop hate speech
Cardinal Bo says Aung San Suu Kyi is now trying to implement the recommendations of the Kofi Annan report, with young volunteers on site as the refugees return. He says opinions are "various and quite contested", with many of the people who went to Cox's Bazar wanting to move on to third countries.
The Catholic leader also speaks about the hate speech which extremist Buddhist monks were spreading with loudspeakers four or five years ago, but which calmed down a year and a half ago. In the wake of the Muslim attacks in Rakhine state, he said, it has returned, with a prominent Buddhist monk saying that killing of non-Buddhists is justified.
Respect for other religions
He notes that the Burmese in general have a deep respect for their religious leaders, so among Buddists Islamophobia is widespread: "the majority would have an aversion for Muslims in general and particularly those Muslims in Rakhine state".
To combat such views, he says, "we're trying our best to have interreligious group meetings and persuade our priests and religious, especially in sermons, to really have respect and understanding for other religions".
Positive reception for pope
In a population of 51 million, the cardinal says, 7 percent are Christians, with Catholics numbering about 1.4 percent, or 700.000 people. The Church's relations are very good with Baptists and other Christian denominations, but also with the Buddhist monks and Muslim leaders. He says there have been no negative remarks about the pope's trip, even from extremist Buddhist monks, who "are in favour of receiving" him, but "he has to be very careful about what terms he will use" so "we request him just to refrain from using the word Rohingya".
Speaking of the conflict with other armed groups, the cardinal says "it has quieted down a bit" and Aung San Suu Kyi has concluded a second peace conference, but some of the armed ethnic groups "are still reluctant and suspicious of the military".
Priorities on education and employment
Finally the cardinal talks of the Church's efforts to support young people who have suffered from a lack of education and employment. He notes there are around three million migrant Burmese working in Thailand and many are vulnerable to trafficking and exploitation. The Church's top priority is education of children and young people, he says, and although "change will not take place overnight", he hopes to gradually "make opportunities for work for our young people".