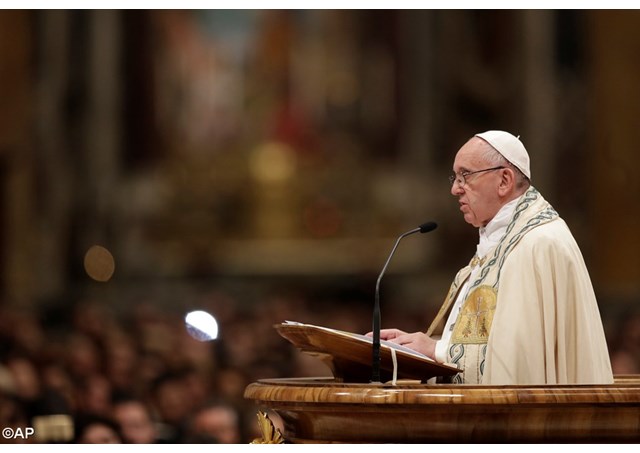 (Vatican Radio)  Pope Francis led a prayer service in St Peter's Basilica on Thursday evening, for the intention of peace in the world – and especially for peace in South Sudan and the Democratic Republic of Congo.
Organized by "Solidarity with South Sudan" in association with the Justice and Peace office of religious organizations worldwide, the event in St. Peter's was part of a worldwide initiative inviting Christians everywhere to join in prayer for peace.
Listen to Chris Altieri's report:
The world's youngest nation, South Sudan is currently embroiled in a civil war that began in 2013, which has claimed some 300 thousand lives and driven 3.5 million people from their homes, disrupting life at all levels throughout the country and giving rise to one of the world's worst humanitarian crises.
The Democratic Republic of Congo – a vast country in central Africa with enormous natural resource reserves – has been plagued by violence and endemic corruption for decades. It is currently experiencing major tension over postponed presidential elections, in addition to several ongoing conflicts in various provinces – including the diamond-rich Kasai province – arising from complex combinations of political, economic, ethnic, and religious matrices.
In both countries – South Sudan and the DRC – child soldiers have been conscripted and used in battle, and rape has been used as a weapon of war, especially in the Democratic Republic of Congo.
In remarks following the readings on Thursday evening, Pope Francis said, "May the risen Lord break down the walls of hostility that today divide brothers and sisters, especially in South Sudan and the Democratic Republic of Congo."
The Holy Father went on to say, "May he comfort those women who are the victims of violence in war zones and throughout the world. May he protect children who suffer from conflicts in which they have no part, but which rob them of their childhood and at times of life itself."
"May the Lord help all the little ones and the poor of our world," Pope Francis said, "to continue to believe and trust that the kingdom of God is at hand, in our midst, and is 'justice, peace and joy in the Holy Spirit' (Rom 14:17).  May he sustain all those who day by day strive to combat evil with good, and with words and deeds of fraternity, respect, encounter and solidarity."