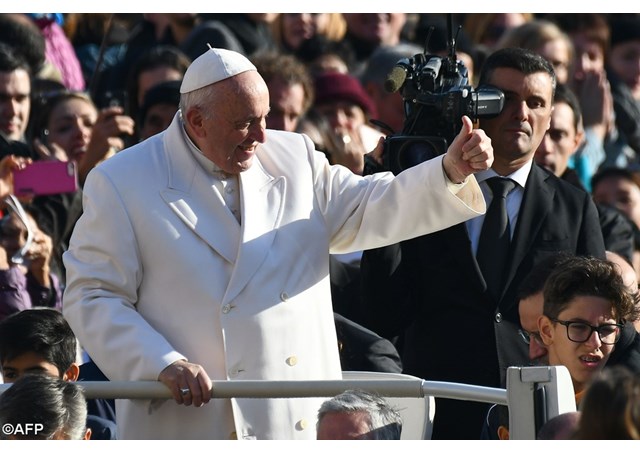 (Vatican Radio) Pope Francis on Wednesday continued his catechesis on the Eucharist at his General Audience in St Peter's Square.
Please find below the full English summary of his words
Dear Brothers and Sisters:  In our continuing catechesis on the Eucharist, we now consider the Mass as the memorial of Christ's passover from death to life.  In the Bible, a "memorial" is more than a mere remembrance of a past event; it is the making present of that event, which enables us to share in its saving power.  At every celebration of the Eucharist, Jesus pours out his mercy upon us, as he did on the cross, in order to renew our hearts, our lives and our entire world.  In the words of the Second Vatican Council, "as often as the sacrifice of the cross is celebrated on the altar, the work of our redemption is carried out" (Lumen Gentium, 3).  Each Sunday, we enter into Christ's victory over sin and death and, by the power of the Holy Spirit, we are given a share in his very life.  By making present the Lord's paschal mystery, the Eucharist strengthens us to bear witness, like the martyrs of old, to his triumph over death and to love others as he does, freely giving of ourselves for their good.