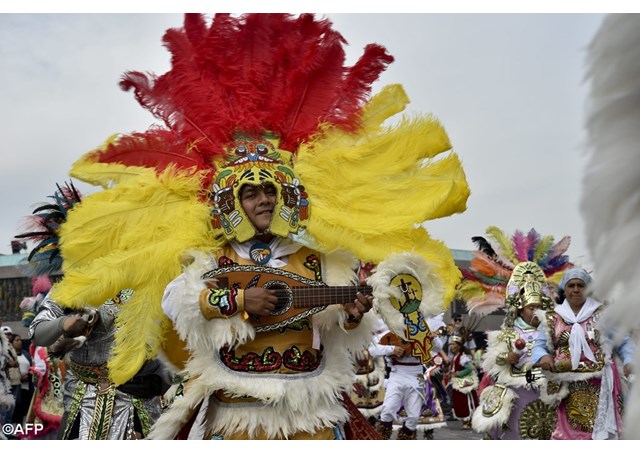 A United Nations expert on indigenous rights has called on Mexico to achieve an equal and respectful relationship with indigenous peoples, in order to end a "serious pattern" of human rights abuses.  "The Government should take decisive steps to show its real commitment to fulfil the rights of indigenous peoples,"  UN Special Rapporteur on Indigenous Peoples Rights, Victoria Tauli-Corpuz said at the end of an official visit to the country.
Click below to listen to our report:
During her 8-17 November mission, the Special Rapporteur met more than 200 people from 23 different indigenous groups - half of whom were women -  drawn from 18 Mexican states.  She also met officials during her visit to Mexico City and the states of Chiapas, Chihuahua and Guerrero.
Exclusion and discrimination
The indigenous rights activist from the Philippines called for creating the "necessary conditions for a sustained and inclusive dialogue, addressing all outstanding issues and providing an opportunity to establish trust, and create a new relationship between indigenous peoples and the State based on equality, respect and non-discrimination."
Tauli-Corpuz said she was able to recognize a "serious pattern of exclusion and discrimination, which in turn reflects in a lack of access to justice, among other human rights violations."  Another serious issue brought to her attention was the fact that indigenous peoples are not being properly consulted, according to international standards, on projects and other decisions that affect their rights, including their right to life.
Mexico falls short
The Special Rapporteur used her visit to assess whether recommendations made by her predecessor in 2003 had been implemented, and to evaluate how Mexico had incorporated its international human rights commitments on indigenous peoples. She noted that neither the 2003 recommendations nor the UN Declaration on the Rights of Indigenous Peoples, had been fully implemented.
Tauli-Corpuz will present her full report to the UN Human Rights Council in September 2018.