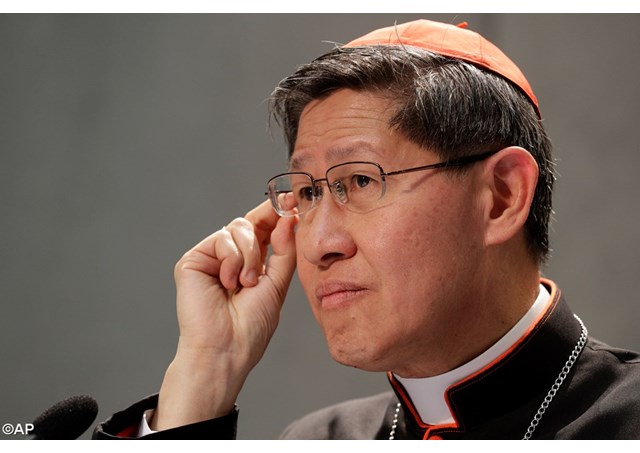 (Vatican Radio)  "Even if the Church is small in [Myanmar and Bangladesh], the presence of the Holy Father could build a bridge, represented by the Gospel."
Cardinal Luis Antonio Tagle, Archbishop of Manila in the Philippines, made that assessment of Pope Francis' Apostolic Visit to Myanmar and Bangladesh in an interview with Vatican Radio's Alessandro Gisotti.
Listen to the full interview:
Cardinal Tagle expressed the joy of the Church in Asia for Pope Francis' visit to Myanmar (27-30 November) and Bangladesh (30 November – 2 December).
Gospel builds bridges
"We are very happy that the Holy Father is visiting countries like Myanmar and Bangladesh where Christians are a minority."
He said the Pope's visit is important, "especially now because, not only in Asia but in those two countries, we have very precarious situations, [both] political and humanitarian situations."
"The Gospel brings people, hopefully, together in love. So we are very hopeful that this will happen," he said.
World Day of the Poor
Cardinal Tagle also spoke about the first-ever World Day of the Poor, which was celebrated on Sunday, November 19th.
"The World Day of the Poor brings us away from the concept of poverty [and brings us] to real people, because they are real people," he said.
Cardinal Tagle said this encounter with real people who are in need causes us to receive more than we give.
"When we encounter real people, we don't only give them what they need – we should! – but we receive more from them."
He said this is at the heart of the World Day of the Poor.
It helps poor people to realize that they are also agents in both their own lives and the life of the world.
"Part of their human dignity is to help them realize that they are also active agents, not only of their lives, but active agents in the world. They can make the world better if they see their potential and the presence of God in their lives," Cardinal Tagle concluded.