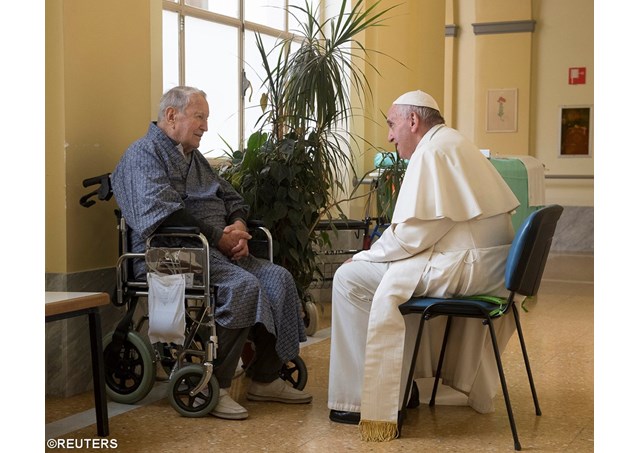 Cardinal Andrea  Cordero Lanza di Montezemolo, the Archpriest emeritus of the Basillica of Saint Paul outside the Walls died on 19th November. He was 92 years old.
Andrea Cordero Lanza di Montezemolo was born in Turin on 27 August 1925. His Father, Giuseppe, was a colonel of the Italian Army who was killed during the Ardeatine Massacre during the Second World War. During this time Andrea and his sister Adriana were sheltered  by clergy of the Ukrainian college in Rome. Andrea also fought during the War. Many years later, both he and his sister publicly expressed their forgiveness of those who had killed their Father.
He was also related to Luca Cordero di Montezemolo, who was Chairman of Ferrari.
After studying and working as an Architect,  Montezemolo trained as a priest for the Diocese of Rome. Ordained in 1954 he was then selected for diplomatic service, serving in Nunciatures across the world, most notably in Mexico, Japan, Kenya, Uganda and Tanzania. After working in the Secretariat of State he become under-secretary of the Pontifical Council for Justice and Peace in 1972, becoming Secretary in 1977. He was consecrated as Titular Archishop of Anglona by Cardinal Villot.
In 1980 he became Apostolic Nuncio to Honduras and Niocaragua. Other postings as Nuncio included Uruguay, Papa New Guinea, Jerusalem, Cyprus, Jordan, Italy and San Marino. He played a leading role in establishing full diplomatic relations between the Holy See and Israel in 1993.
Pope Benedict XVI appointed him as Archpriest of the Basillica of Saint Paul outside the Walls in 2005. He was responsible for overseeing much of the restoration work inside the Basillica, including work on Saint Paul's tomb.
He was also an expert in ecclesiastical heraldry and help to design Pope Benedict's coat of arms.
 Pope Benedict appointed him a Cardinal in 2006. He  retired in 2009. Pope Francis visited him at his nursing home in 2016.