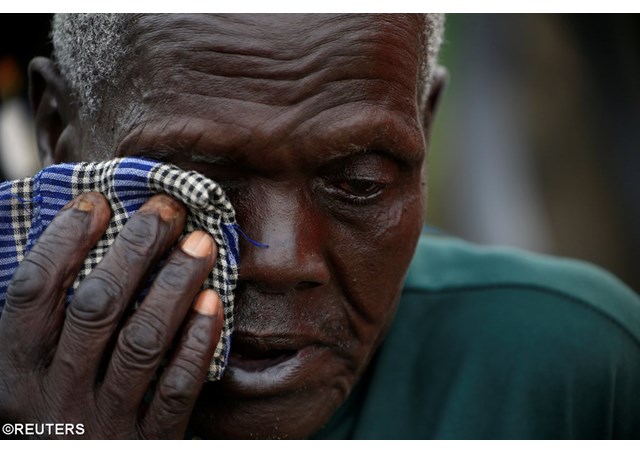 (Vatican Radio) Pope Francis is to preside over a Prayer for Peace in South Sudan and in the Democratic Republic of Congo on November 23rd in St. Peter's Basilica at 5.30pm Rome time.
"Solidarity with South Sudan" in association with the Justice and Peace office of religious organizations worldwide, has organized the Prayer and confirmed that when Pope Francis heard of the initiative he made it known that he wanted to be personally involved. 
Christians across the world are invited to pray together on that day and time for Peace in the world, and above all in South Sudan and in DRC, two conflict ravaged nations in which millions of displaced people are suffering the effects of terrible humanitarian crises.
Sr. Yudith Pereira Rico, the Associate Executive Director of Solidarity in Rome, told journalists that the main thing people ask her to do when she travels to South Sudan, is to tell the world what is happening in their country.
The world's newest country spiraled into civil war in late 2013, two years after gaining independence from Sudan, causing one fourth of the 15 million-strong population to flee their homes.
Sister Yudith described the continuing violence and abuse taking place in South Sudan as "Silent Genocide".
She told Linda Bordoni what it means for the suffering people of South Sudan to know that the Pope and Christians across the world are praying for them:
Sister Yudith said that for them, to know that people outside of South Sudan, in Rome, and in other places are praying for them, is to know that "we have the world with us".
"For them it a source of strength and hope for the future to feel that they are not alone, and this is important because otherwise where can they find the courage to resist what they are enduring now as refugees, victims…" she said.
And highlighting the many abuses the most vulnerable people are enduring including the use of rape as a weapon of war, Sr Yudith said "to know that people are talking about this means that they too, as human beings count".
"They feel they don't count for anybody: for politicians they don't count, they don't exist – they are only fighting for power and for money."
She says most people don't even know where South Sudan is or the fact that it is the newt country.
To acknowledge and to pray for them, she said, is to give them dignity and saying "we are with you".
She said that notwithstanding the terrible events that caused the new nation to disintegrate into conflict the people still want to be one.
She explained that they came from 20 years of war, they did not have a national identity, and while the warmongers are vying for power and control the new generations, the women and all ordinary people are convinced they can all live together peacefully.
Sr Yudith also spoke of Pope Francis' interest in the nation and of how it has positively impacted the desire to set in motion some kind of peace process.
"He is waiting for them to begin something so he can come and lend his support, but they have to begin…" she said.