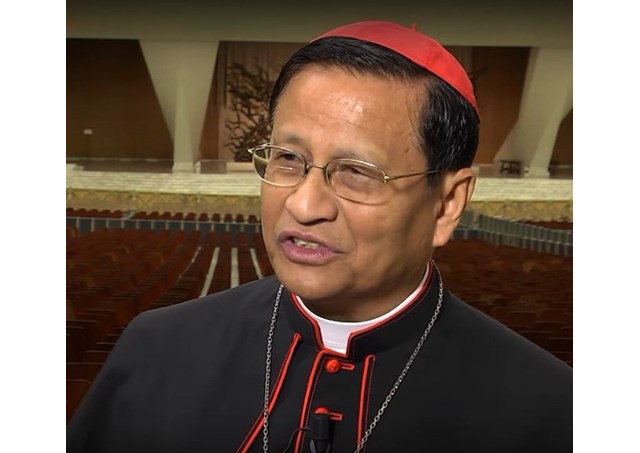 (Vatican Radio) Ten days before Pope Francis arrives in Myanmar on his 21st apostolic journey, the Archbishop of Yangon, Cardinal Charles Bo is meeting with him in the Vatican on Saturday to discuss details of the planned encounters with religious and political leaders.
The pope is scheduled to leave Rome on November 26th and arrive at Yangon's international airport the following day. He will spend three days in Myanmar, travelling to the new capital, Nay Pyi Taw for talks with the president and with State Counsellor Aung San Suu Kyi.
In Yangon he is due to meet with the nation's Buddhist leaders and with the Catholic bishops, as well as celebrating two public Masses, before departing for Bangladesh on November 30th.
But during his meeting with the Holy Father in the Vatican, Cardinal Charles Bo told us he will be requesting a couple of additional encounters that he hopes can serve as "the first step for peace" in his country…
Listen to Cardinal Charles Bo talking to Philippa Hitchen:
The cardinal says during his encounter with the pope on November 18th, he will be asking him to meet "informally" with all the country's religious leaders together, including Buddhists Muslims, Hindus and Christians.
Meeting with religious leaders and military general?
Although it's not in the protocol, he says, "also I'm going to ask the pope whether he could meet the senior general, privately". The aim, he says, is "not to promote what he has done, but to have a dialogue with him" The cardinal adds: "Perhaps he could soften his heart and perhaps that could be the first step for peace".
Motto for papal journey
Myanmar's Catholic leader recalls that the motto for the papal visit is "love and peace", which must be promoted among all the different ethnic groups and religious communities. He says it's vital to "stop the civil war" between the military and the armed ethnic groups, including the Kachin, the Shan and others.
Catholic Church focus on nation building
The cardinal says that ahead of the papal visit, the Catholic bishops and lay representatives have had a national gathering to talk about nation building. Among the priorities for the Church, he says, are education, peace building, integral human development and the promotion of women and children.
Hopes for visit
Catholics in Myanmar make up less than one and a half percent of the population, numbering around 700.000 faithful. "Although we are a small minority", the cardinal says, the pope's visit will be have a "big impact on us to carry on with our programme". Despite the difficulties the country is facing, he adds, "we hope to be the real light of the world and salt of the earth".
You can hear the second part of this interview with Cardinal Charles Bo of Yangon over the next week, ahead of the pope's departure for Myanmar