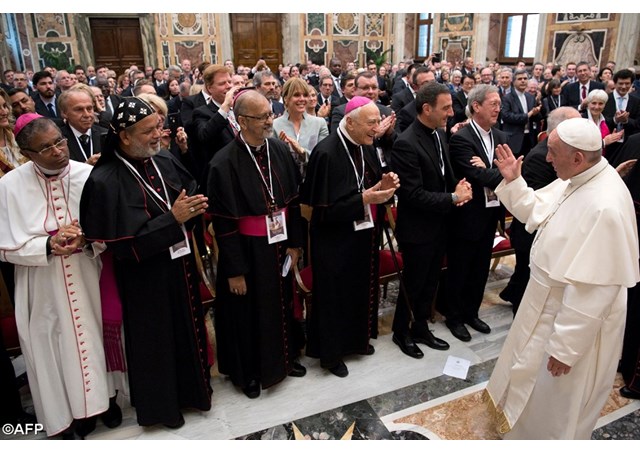 (Vatican Radio) A leading Catholic peace campaigner says she hopes that Pope Francis's condemnation of nuclear weapons can influence the current "serious and frightening exchange" between the United States and North Korea.
Co-president of Pax Christi International Marie Dennis, who attended the recent international symposium on disarmament and development held at the Vatican, said she believed the Pope's clear call for the abolition of nuclear weapons could cause "even the most resistant politicians" to listen.
In an interview with Vatican Radio, Dennis said: "It is very important that the world understand the depth and seriousness of Pope Francis's commitment to nuclear abolition".
"I think that certainly at a congressional or parliamentary level that this message will be heard very clearly and we will make sure that it does get back to key people," she added.
Weapons serve a mentality of fear
During his address to delegates, Pope Francis said nuclear weapons, "exist in the service of a mentality of fear that affects not only the parties in conflict but the entire human race." He went on to say, "Weapons of mass destruction, particularly nuclear weapons, create nothing but a false sense of security."
Speaking to Vatican Radio as President Donald Trump was continuing his five-day tour of Asia during which he has commented on the North Korea dispute, Dennis said that nuclear weapons "cannot be used in that situation", as it would clearly lead to the United States overwhelming North Korea.
Diplomatic solutions are possible
"But to even threaten to obliterate the North Korean people," Dennis added, "to so seriously affect the people in South Korea and in the whole region we think is morally unacceptable, it's an unconscionable idea. So we have to turn to diplomacy." Dennis said Pax Christi believed a diplomatic solution was possible to settle the dispute.
Reflecting on the message of the conference hosted by the Dicastery for Promoting Integral Human Development, Dennis said it had provided an "important opportunity" to encourage all in the Church to "speak out" and to take the issue of nuclear disarmament "much more seriously".
Nuclear arsenals "rob from the poor"
Dennis said Pax Christi was fortunate to work with the Vatican in negotiating the Nuclear Weapon Ban Treaty, which was signed by 122 nations at the United Nations General Assembly in December 2016.
As well as the obvious humanitarian consequences which are at the foundation of concerns, Dennis added that expenditures on the maintenance and refurbishment of nuclear weapons are "robbing from the poor and will continue to do that." She said this issue was "extremely serious and is very much on the mind of the Vatican."
Not in our name
As part of the process to establish a nuclear ban treaty, Dennis said countries that are not nuclear powers or under the nuclear umbrella but whose lives would be devastated by a nuclear war, "have had an opportunity to speak up to say: 'not in our names, that we have to find a way to ban these weapons.'"
Dennis welcomed Pope Francis' insistence during his speech on the importance of collaboration between civil society, the Church and academics "who all put energy into this important treaty." She acknowledged that the real challenge was to make those countries that do possess nuclear weapons to recognise the changing attitude on this issue.
"I think that in the world that we live in now our countries, our cultures, our societies are so tightly interconnected that it really is not possible for a country to remain outside the family of nations on important issue forever. "The point is that in a nuclear exchange, even a small exchange of nuclear weapons, certainly in any kind of a major nuclear war, we could destroy the planet we live on."
Testimony of Hibakusha
Dennis paid tribute to a group of Hibakusha, survivors of the World War II atomic bombings of Hiroshima and Nagasaki who were present at the symposium. "In many ways," Dennis said, "it's very touching at this conference because so many of the survivors are getting older and older and we won't have their first hand testimony forever. So it is a gift that they are here."
Listen here to Philippa Hitchen's interview with Marie Dennis: