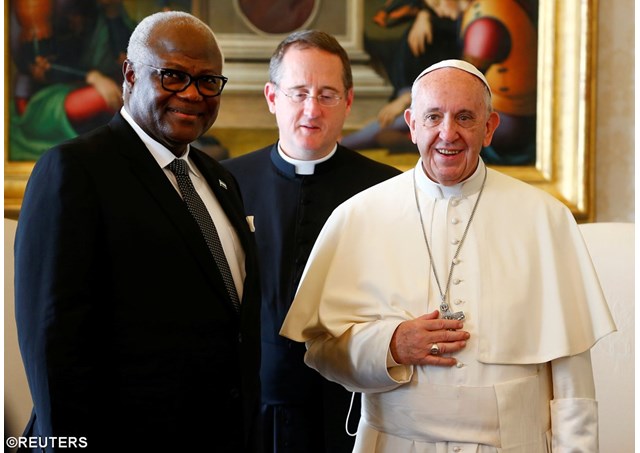 (Vatican Radio) Pope Francis has received in audience Ernest Bai Boroma, President of the Republic of Sierra Leone.
The cordial conversation that took place on Saturday morning during a private audience in the Apostolic Palace between  the Pope and President Bai Koroma focused mainly on the good relations that exist between the Holy See and the west African nation of Sierra Leone and on the important contribution of the Church in development programmes.
A communiqué by the Vatican Press Office revealed that mention was made of the assistance offered by the Catholic Church to the nation in the material and moral reconstruction of the country, especially in education and healthcare.
"Taking note of the situation of religious freedom, peaceful coexistence and reciprocal respect that exists between the different religious denominations, the conversation focused on the importance of favouring national cohesion, giving value to the wealth of the country's different historical, religious and cultural traditions within the respect of human rights and  rights of minorities" it said.
Pope Francis and President Bai Koroma also exchanged views on themes of international interest, in particular regarding issues that are currently challenging the region.
After meeting with the Pope, the Sierra Leonean President engaged in a meeting with Vatican Secretary for Relations with States, Archbishop Paul Gallagher.