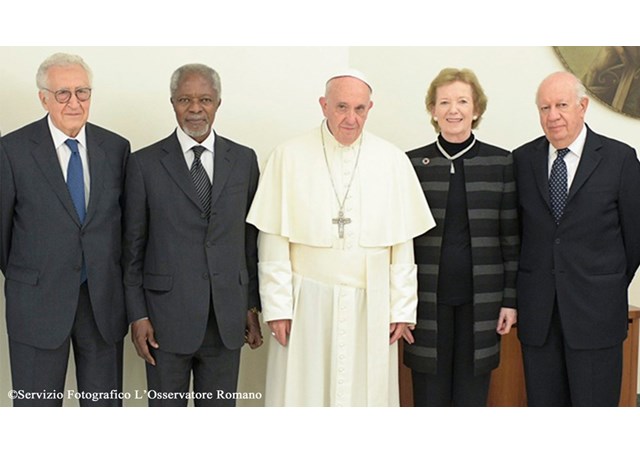 (Vatican Radio) At the COP23 climate conference, taking place in the German city of Bonn, leaders from almost 200 countries are working on a detailed 'rule book' to try and help implement the landmark Paris agreement.
The November 6th to 17th talks are the first since U.S. President Donald Trump announced he plans to pull out of the 2015 Paris accord and promote American coal and oil industries instead. The conference is being organised by Fiji, one of the many Pacific island nations most directly threatened by warming temperatures and changing weather patterns.
Among the global leaders attending the conference is former Irish President Mary Robinson, who also served as a U.N. special envoy on climate change and set up her own Climate Justice foundation.
On Monday she and other members of 'The Elders' met with Pope Francis to discuss global challenges, including environmental concerns. After the private audience, Mary Robinson told Philippa Hitchen about the vital leadership of the Church in this field….
Listen:
Robinson says it's vital that faith groups, which are on the ground with people, "embrace the importance of taking very seriously the existential threats of climate change". She says the Pope's encyclical, Laudato Si' has been "extremely important", noting that she launched a response to the document from Irish theologians last Friday at Dublin's Trinity College university.
U.S. interests at conference
Robinson, who has attended all the COP meetings since the Copenhagen conference in 2009, says the Bonn meeting is very important as it's the first since Trump announced the U.S. withdrawal from the Paris accord. While he cannot do that until November 2020, she says, the head of the U.S. Environmental Protection Agency will be in Bonn, wanting to "talk about coal as saving the climate, and none of us believe that".
Leadership of Laudato Si'
She highlights the importance of this first conference under the presidency of a small island state, Fiji, representing a "people-centred approach" by "those most affected and least responsible" for climate change.
Robinson praises the "huge impact" of Laudato Si', saying  "it put the climate story on the map in a very holistic way which I very much welcomed". She describes it as "a very key document and key example of leadership", especially for all faith groups and civil society.
Gender justice and climate change
Robinson says she'd like to see "much more emphasis on gender and climate change, because if you undermine poor livelihoods, it's women who are more affected, it's women who still have to put food on the table, go further for water, go further for firewood".
She says a gender action plan will be adopted in Bonn and she urged Pope Francis  to give "an important and timely signal", highlighting the role of women "as actors of change and builders of resilience, especially grass roots women".