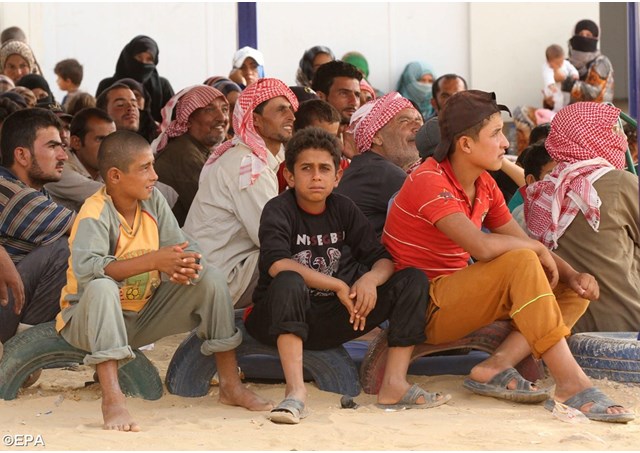 (Vatican Radio)  As the city of Raqqa is recaptured from so-called Islamic State militants, aid organizations are warning that the humanitarian crisis in northeast Syria is rapidly escalating.
The international charity "Save the Children "says there are some 270,000 people who have fled the Raqqa fighting and are in critical need of aid. It says that conditions in the overcrowded camps are miserable but it is not yet safe for people to go back, and many of their homes are now turned to rubble.
Alun Macdonald, Save the Children's Regional Media Manager for the Middle East and Eastern Europe told Vatican radio of how children in camps around Raqqa are traumatized as well as in need of food, clean water and shelter:
Macdonald said most of the children he has been in contact with in Raqqa have fled the city and are now in camps or have been in the camps for the past 3 years or so.
He said they carry the scars of severe trauma as they have witnessed terrible violence.
Traumatized children
"Some of them tell us they have seen people beheaded or executed in the streets in front of them. They have lost friends and family. In the past few months, with the military offensive, many of them have had their homes bombed, their schools bombed, they've been caught up in heavy violence, they've been through horrific experiences" he said.
Macdonald described how when they arrive in the camps it is clear that a lot of them are very overcome with the trauma they have gone through. 
"They have nightmares, they can't sleep, they are very deeply psychologically affected by what they have seen" he said.
Lack of food, clean water, medicines and adequate shelter

He said that inside Raqqa city in the past months there has been very little food and almost no clean water because of the fighting, and that people are struggling also to get medical supplies to sick children as most of the health facilities have been destroyed or have run-out of medicine.
They arrive in the camps and there aid agencies providing assistance "but it's not enough".
He said the camps are very overcrowded, "there's more than a quarter of a million people who have fled the area" and so there are a lot of children who are desperately short of basic needs.
Concerns for the encroaching winter months
Macdonald expressed concerns for the coming months as winter approaches and temperatures in the area go below freezing point.
"We are very worried, he said, that these children are going to be stuck in the camps without adequate shelter in a freezing time of the year".