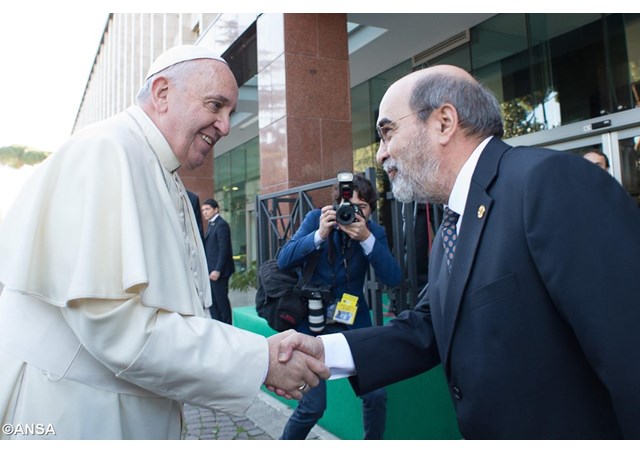 (Vatican Radio) Pope Francis marked World Food Day this week with a visit to the UN Food and Agriculture Organization (FAO) where he called on world leaders and policymakers to work for a concrete, practical consensus to prevent the most tragic effects of climate change hitting the weakest and most defenseless.
"We need to change our lifestyles, the use of resources, production and consumption patterns," the Pope said, and he decried what he described as the "negligence" that is damaging the "delicate balances of the ecosystems" and the "arrogance of manipulating and controlling" the planet.
Hosting the Pope at FAO's Headquarters in Rome was FAO Director-General, José Graziano da Silva, who immediately afterwards spoke to Vatican Radio:
Da Silva points out that the Vatican has Permanent Observer Status at FAO but most important, he says, as the spiritual leader of the Catholic Church he represents values that FAO shares: solidarity, dignity, and hope in a better world.
"We share those values in FAO and Pope Francis is a continuing inspiration for us, and not only through 'Laudato Sì' where he approaches the issue of climate change – a very important common global value" he says.
He says that Pope Francis is one of those rare people who have dedicated their entire lives to promoting important values: "these people are indispensable".
"I think that Pope Francis is one of those people who have worked hard all of their lives and that he is one of the few indispensable people in the world today" he says.
Before addressing his audience at FAO, da Silva says he had the opportunity to speak with Pope Francis personally about some of the programmes his organization shares with the Vatican.
"We discussed particularly the need to concentrate our efforts in Africa and to stop the conflicts, and also to deal with the impact of climate change" he says.
Da Silva also revealed that Pope Francis promised to send a special message for the meeting that FAO is organizing during the African Union Summit that FAO is organizing next January 2018 in Addis Ababa.