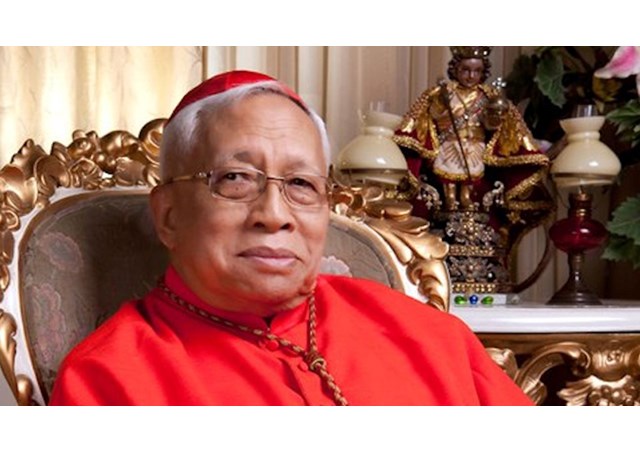 Pope Francis has expressed his condolence for Philippine Cardinal Ricardo Vidal, who passed away in Cebu on Wednesday.  The 86-year old prelate who was Archbishop of Cebu for nearly 3 decades until his retirement in 2010, died of complications from pneumonia. 
Pope Francis sent a telegram to Archbishop Jose S. Palma of Cebu, expressing gratitude for Cardinal Vidal's  "untiring and devoted service to the Church, and for his constant advocacy of dialogue and peace for all the people in the Philippines".
Please find below the text of the Pope's condolence telegram: 
The Most Reverend Jose S. Palma
Archbishop of Cebu
Deeply saddened to learn of the death of Cardinal Ricardo Vidal, I extend my sincere condolences to you, and to the clergy, religious and lay faithful of the Archdiocese of Cebu.  Joining with you in expressing profound gratitude for the late Cardinal's untiring and devoted service to the Church, and for his constant advocacy of dialogue and peace for all the people in the Philippines, I commend his soul to the infinite love and mercy of our heavenly Father.  As a pledge of consolation and hope in the Lord, to all who mourn his passing in the certain hope of the Resurrection, I willingly impart my Apostolic Blessing
                                                                       FRANCISCUS PP.
Cardinal Ricardo J. Vidal, Archbishop emeritus of Cebu (Philippines), was born on 6 February 1931 in Mogpoc, Philippines. He did his studies at the minor seminary of the Most Holy Rosary (which later assumed the title of Our Lady of Carmel) and at the seminary of San Carlo.
He was ordained on 17 March 1956. The Bishop of Lucena entrusted him as spiritual director of the local seminary of Mount Carmel. He then became superior of the same institute and was dedicated to the formation of the young candidates to priesthood until 10 September 1971, when he was named Coadjutor Bishop of Malolos, Bulacan, and was elected to the titular church of Claterna. He received episcopal ordination on 30 November 1971. On 22 August 1973 he was named Archbishop of Lipa in Batangas.
On 13 April 1981 he was named Coadjutor with the right of succession to the Archbishop of Cebu, Cardinal Julio Rosales. He was named Archbishop on 24 August 1982.
He served as president of the Bishops' Commission for Vocations within the Catholic Bishops' Conference of the Philippines. He was also vice-president of the Catholic Bishops' Conference and then president from 1985 to 1987.
He was created and proclaimed Cardinal by John Paul II in the Consistory of 25 May 1985,with the Title of Ss. Pietro e Paolo in Via Ostiense (Sts. Peter and Paul in Via Ostiense, Rome).
In a message, Cebu archdiocese's spokesman Msgr. Joseph Tan said the prelate died due to infection leading to septic shock at the city's Perpetual Succour Hospital where he was hospitalized on Oct 11 when he became seriously ill. 
Requesting prayers for the prelate's soul, Tan said the details of funeral rites will be made available as soon as possible.
A native of Mogpog, Marinduque, Vidal was ordained a priest in 1956 by Bishop and Servant of God Alfredo Maria Aranda Obviar.
Then Pope John Paul II appointed Vidal head of the Cebu archdiocese in 1982. He retired in 2011.
In a statement released shortly after Vidal's death, CBCP president Archbishop Socrates Villegas stressed Vidal's legacy will live on despite his passing.
"Cardinal Vidal cannot die. He who has always shared in the dying and rising of the Lord daily in his priestly life cannot die. He now joins the immortal ones who served the Lord faithfully here on earth. His wisdom and his humility, his love for priests and his devotion to the Virgin Mary must live on in us whom he has left behind," he said. Archbishop Villegas also expressed hope in Cardinal Vidal's intercession for the faithful. "Rest well Eminence. Pray for us in the Father's House."
Meanwhile Cotabato Archbishop Orlando Cardinal Quevedo praised Card Vidal for being a "true servant-leader rather than a 'prince.'"
"For me his legacy is his own outstanding character. Some of these are: Humility, low profile style; Simplicity and Approachability; Ability to listen even to opposing views; Prudence in political issues; Courage in presenting and defending the CBCP position leading to the 1986 People Power; Charity for those considered as 'enemies,'" he said in a message to CBCPNews.
With the death of Card. Vidal, the number of cardinals worldwide now stands at 219, of whom 120 are ‎below the age of 80, hence are eligible to vote for a new pope.  Ninety-nine are non-voters.  ‎