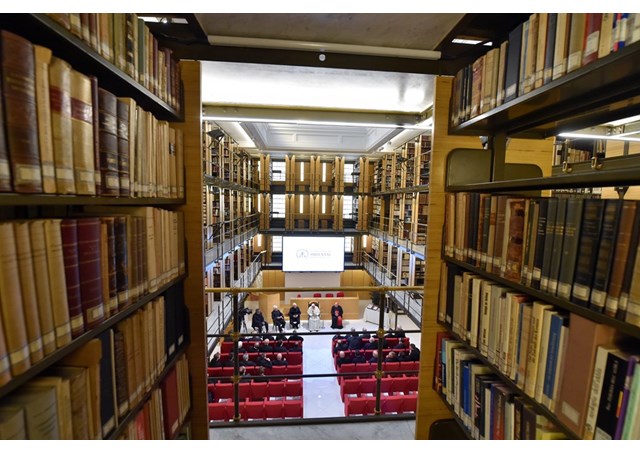 (Vatican Radio) Pope Francis has sent a Message to the Grand Chancellor of the Pontifical Oriental Institute, Cardinal Leonardo Sandri, who is also the Prefect of the Congregation for Oriental Churches.
The Pontificium Institutum Orientale, or "Orientale" as it is known in Roman shorthand, was founded in 1917 by Pope Benedict XV, and became part of the "Gregorian Consortium" including also the University and the Biblical Institute, under the direction and tutelage of the Society of Jesus.
In his Message, Pope Francis makes note of the high achievements in the twofold mission of research into liturgical, theological, ecclesiological, and spiritual sources of the Christian East, and the preparation of instruments by which to make the riches of the Eastern Christianity more readily available and accessible to Christians in the West.
The Pope also calls on the Orientale to mindfulness of and solicitude for the enormous challenges facing Christians in the East.
"Keeping intact the attention and application of traditional research," Pope Francis writes, "This Institute, through research, teaching and testimony, has the task of helping our [Eastern] brothers and sisters to strengthen and consolidate their faith in the face of the tremendous challenges they face," challenges which, in the present day, include strong temptations to leave their native homelands, and often forced displacement under threat of persecution and even martyrdom.
The Holy Father concludes his message, "In joining myself to the thanksgivings to God for the work it has done over these 100 years, I hope that the Pontifical Oriental Institute will pursue its mission with renewed impetus, studying and spreading with love and intellectual honesty, with scientific rigor and pastoral perspective, the traditions of the Oriental churches in their liturgical, theological, artistic and canonical variety, better and better responding to the expectations of today's world to create a future of reconciliation and peace."